Bertucci's Restaurant Review
June 8, 2012
One late Friday afternoon I was walking into Bertuccis (next to the movie theater in Hazlet) with my dad. It was dark inside but there were some small brown chandeliers on the high black ceiling above us. There were lots of red booths and tables and a small room in the back. The tables were set beautifully with black napkins and shined wooden tables. You can see the kitchen from where you walk in with tiles on the back wall. You could smell the mouth-watering food as soon as you walk in. We went in and got seated right away. The seats were comfortable and the table was clean.
Our waitress was very kind. She brought the bread out instantly. The overall
service was very efficient. We didn't have enough time to eat our appetizer
because the food came out so soon. She asked us if we were ready for our
food when it was ready, which is what a waitress should do. She asked for refills throughout.

Overall I had a wonderful time. The food was scrumptious and I can't wait to try it again. I had the chicken quesadilla and my dad got the steak sandwich. They were both delicious and cooked and seasoned just right. I could taste the warm, melting cheese with rosemary spiced chicken and mouth-watering vegetables. It was outstanding. The service was super and I can't wait to go back!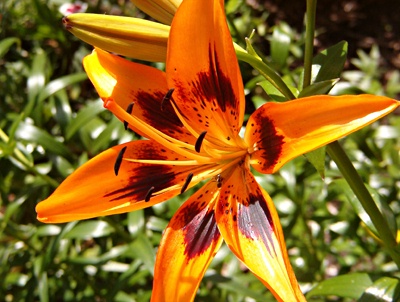 © Terrin C., Humboldt, IA