March Storm Story
June 4, 2012
It was 9:00pm on March 2Nd, 2012... I was at a robotics competition in Kalamazoo Michigan at Gull Lake High School. This school was huge. Almost three times bigger than my school where there's over 1800 kids. At Gull Lake High School, this competition took place in the gym. The gym was so big that there were bleachers out from one end, then the playing field which is as big as a full basketball court, and then the pits which is like our working spaces and since there were so many teams from all around Michigan, the pits took up at least two full basketball courts. So, as I said before, this place is huge. This school was full of kids. The bleachers were full, plus in between the bleachers and the playing field, there were random people dancing to the music that the D.J. had put on. The D.J. would yell out to the crowd, "Common! Is that all you got?" He'd tell everyone to cheer louder and to dance more! He would sometimes dance with them to "The Cupid Shuffle". It was fun. I got to watch them for a few rounds when the guys weren't working on the robot. Our robot was having some difficulties on the field throughout the entire day. My team members kept on trouble shooting on how to fix the problem. "It was mostly the programing", I herd one say. We tried and tried but certain things just wouldn't work. We scored okay throughout some rounds but we could have done better if it would have worked right.

When we were done with all of our matches for the day and the pits were closed, we went back to the hotel. The hotel looked old and southern. The walls looked dirty and the carpet looked as if it hadn't been vacuumed in a long time. When I walked into my room to drop off my things, I saw a couch along the far wall, a T.V. In the corner along the wall connected to the wall that the couch was on. The the other wall that was connected to the wall had a huge window and the door I walked through on it. The there was the last wall to this tiny room where a small table and chair sat. There was a small hall way in between that wall and the wall where the couch sits. There was a kitchen to form the hall way and a bathroom following it. There was a bedroom on the other side of the wall where the couch was. There were two beds, a table in between, and a closet across it. In the bathroom there was a shower tub, toilet, and a small sink. I pulled out the bed from the couch, made the bed and set my stuff on my bed. I left the room and went to hang out with some friends in multiple rooms until I got a phone call from my mother.

She was so worried because she hadn't spoken to me all day. She told me that there was a huge storm back at home in Traverse City. She told me how cold it was and how all the green grass was turning to pure, white, fluffy, snow with sheets of ice surrounding it. She said that this was the worst storm she has ever seen. She got so worried about me not being able to get home because of what they were saying over the news about how bad it's going to get. So, she decided to drive all the way down to Kalamazoo and get me. They got there early the next morning. I told them that this would hurt my grade if I didn't stay to finish out the competition. So they decided to stay for the competition. Around lunch time, my mother got a phone call from my great grandma who we live with but was currently by herself.

She had told my mother that she had just lost power in the house and did not know what to do. So she came to me and broke the news. By this point, it was an emergency that we get home as soon as possible. So, I let all of my teachers know that I had an emergency with my grandma and I have to go. They were very understanding and wished me good luck and a safe drive home. We got in the car, and I fell asleep. When I woke up, we were home. My mother was right. There was white fluffy snow every where. I couldn't see anything but white snow. I got out of the Jeep and went inside. My grandma was fine and everything worked out. We got power the next day. So now it was Sunday. Church was canceled that morning so I got to sleep in. I cleaned the entire house that day with my parents. It was more fun than usually because we cleaned as a family. Around dinner time, my mother had gotten another phone call. School on Monday was canceled not only for me but also for my mother. She is in collage to become a doctor. That day, I spent it doing homework and relaxing. I had a busy weekend and I just needed time.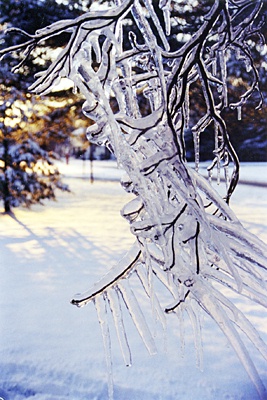 © Robert S., Stoughton, MA