I love you, and I really do
May 28, 2012
Why it is that often the one and only person that you Love doesn't really care about you nor love you back? Some people say that it's hard, and impossible to have a click with the one that you meet for the first time. I usually rebut what some people have to say. Ever since the first time I met you I felt the rapport between you and me even though we haven't spoken a word. I know that seems kind of weird and incomprehensible but, having you as a friend would certainly complement my life.

I want you to love me and I need you in my life. My love for you is a thirst, and you are the one and only who can quench it. If you were to ask me why I love? My answer would probably be "everything;" not because that sounds better but because you are. I don't normally shake nor have my lips numb before any women, but your magic works on me from distance. I don't know what it is, but it does.

I remember the first time you hugged me, and I suddenly became feeble with the way your body grabs and seizes my little soul. Of course you left the shape of your body in my arms, and never think about how indispensable you are to me. I sometimes wish that I have never met you, not because I hate you, but due to the fact that my soul habituates to a stimulant that only you can generate. I don't really know any other ways to tell you how much I love you, nor beg for your love; but all I know is that I love you and you are the one that I think about every day ever since I laid eyes on you. Now it comes to a point where your image fully occupies my faculty of thinking. I think about you constantly, even though sometimes I try not to give in strength in order to maintain a male perception.

I don't really have too much to say, because just thinking about you suppresses my ability to think and expressing how I feel about you. I write every day, not because I am an excellent writer but only because it's the easiest way for me to express how I feel about you; and how much you mean to me. I love you so much, Elle.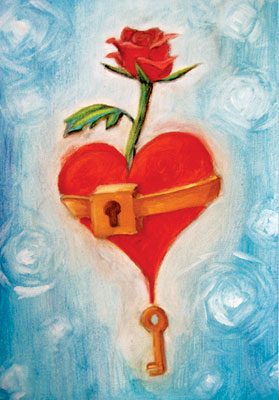 © Louisa L., Pleasanton, CA