Double the shoes to fill
May 31, 2012
"Lauren, why aren't you more like your sisters?" If I were to count how many times I've had this said to me, I would run out of fingers and toes in a minute flat. As far back as I can remember, I have been compared to my two older and seemingly perfect sisters.

During elementary school, it never occurred to me that having 2 older sisters may affect the way I was treated by my teachers and school administrators. It all really began in seventh grade, with a science teacher. After the first test of the year, on which I got an 84, a grade I was thoroughly satisfied with, I was taken aside by my teacher. "Lauren," he said, "I am extremely disappointed in you. How could you get such a low grade?" I was shocked, how could this man, who I had only known for about a month, have such high expectations for me? But suddenly it hit me. One of my sisters has an innate talent for the math and sciences, and had done exceptionally well in this class. This was the first time I realized how difficult this aspect of my schooling would prove to be.

As a current ninth grader, I am taking Honors Biology with a teacher who had never even heard of my sisters, let alone taught them. To my surprise, biology has become one of my best and favorite subjects. This just shows how without the pressures of having to live up to my siblings, I have been able to succeed in my own right and begin creating a name for myself.

Now not only did my sisters get stellar grades in high school, but both are or will be attending elite, Ivy League universities. This in-itself has created barriers between fellow students and myself. "Good luck topping that Lauren," and, "Now you have to go to Princeton," seem to be the most popular of the many comments I have received regarding my future college plans. Even as a freshman, I have now been asked countless times what college I am planning to attend, as If because my siblings chose such amazing schools, I must automatically know where I want to go and where I will be accepted.

Although in some ways having sisters has influenced my short time at Westhill negatively, it has also changed my experience for the better. For example, when coming to such a big school, I knew what to expect and how to handle it. In addition, I always know that if I ever need anything, a loving and helping hand is only a two-minute walk away.

All else aside, having two older sisters has made my academic career more difficult. I get uncommonly stressed at a mediocre grade and work many hours into the night just to get that A. But in the end, the value of having sisters completely outweighs the negatives that come with it. They are my best friends, and life without them would not be complete.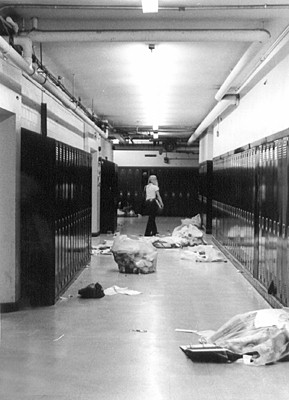 © Halsey S., Marblehead, MA