Fireworks
May 31, 2012
Whee! Boom! Pow! You gaze at all the fireworks as if they were rapidly-blooming flowers. They shoot straight into the air and explode into many sparkling "petals" once they reach their pinnacle. As one flower decays, another soars into the Fourth of July sky. Just like regular flowers, they come in numerous shapes, sizes, and colors. As you drive home with your parents, you ask, "How do they do it?" Creating fireworks is part of a lengthy and multi-step process. As beautiful as fireworks are, it takes intense labor to produce them.
First, stars, tiny black balls consisting of different salts, are pushed inside paper tubes called shells. Fireworks differ depending on which stars are used and how they are arranged inside the shell. For example, the color yellow is made from sodium, barium nitrates create green, strontium salts produce red, and copper salts yield blue.
Next, the shells are wrapped in sticky, wet tan paper and are left to dry until a stiff, ball-like layer is formed . A black powder lift charge is then attached to the bottom, and a time fuse is connected to the top. After that, another layer of paper is wrapped around the exterior. Two more fuses, a leader fuse (placed inside the time fuse) and a side fuse are added. Later, the leader is hooked up to an electrical fuse. The entire ball is then rolled up like a mummy in aluminum foil to prevent it from getting wet.
The following morning, several materials, like illuminations (Roman candles), batteries (enclosures made of wood), and mortars (pipes) are set up in the display area where the fireworks will be lit. The batteries and illuminations keep the shells in place. Shells are arranged and shelved onto racks in groups of seven. Afterwards, mortars are transported to the battery berths, and sand is poured around and between the pipes to keep them from tipping over. At that point, wires are connected to batteries, shells, and the firing panel. Once the shells are separated, they are set on top of the pipes, attached to the firing panel, and then placed inside tubes. When it's finally time for the fireworks display, the wires are lit. Seconds later, out burst the fireworks!
For the general public, fireworks displays are often colorful, beautiful arrangements of lights celebrating various festivals around the world. However, many do not realize how difficult and labor intensive the setting up process is. It can take two days to choreograph a twenty-minute fireworks show, perhaps longer if it is coordinated with music. Next time, we witness a fireworks display, we should appreciate all the efforts of its creators since they never fail to "wow" us every time.


Kuklin, Susan. Fireworks. New York, NY: Hyperion Books for Children, 1996.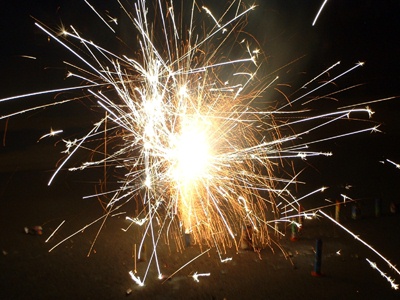 © Kevan B., Beaverton, OR