Rollercoaster
May 31, 2012
Ever heard the saying life is a lot like a rollercoaster? Not for me. I'm morbidly afraid of them. And not just the ones that flip you and take you upside down, but the little kid ones too. I know it's not normal to be scared on rollercoasters when you're 13 years old, but the fact is I am. One time my friend took me to Disneyland. Somehow she managed to get me on The Matterhorn. I spent the entire ride with my eyes glued shut, screaming my little heart out. By the time the ride ended. I was shaking so badly that I could barely walk. See what I mean?

Some years I refuse to go to carnivals or fairs because I know they'll have rollercoasters. Everything about them scares me: the rickety sound they make when you're on them, the musty smell of old popcorn (if you're at a fair), the way they make knots in your stomach, and the feeling of hot air colliding into your face, whipping your hair. I must have inherited this from someone, but I am at loss as to whom. Both my parents love rollercoasters, and I haven't heard anyone else from my family express their fears like I have.

Maybe life really is like a rollercoaster. You sometimes have to wait in line, and you might not even like the outcome, but once you're strapped in, you just have to sit back at wait to see the outcome. While you're riding the roller coaster, you have your ups and downs (of course), but you also have loops that flip you and spirals that make you so dizzy you can't see anything until you straighten out. And by the time the ride is over and you are old and frail, you want to stay on until the final buzzer sounds and you can get up from you seats and leave.

So far in my life I've been waiting next to the line, too afraid to get in because I don't want to be disappointed or scared. Next time I'll jump in line and ride out my life, because in the end when my final buzzer sounds, I want to be able to say that I am thankful for riding and taking chances. I want to be able to say that I rode the loop, spiraled, corkscrewed, and went backwards. After all, what is life without a little risk?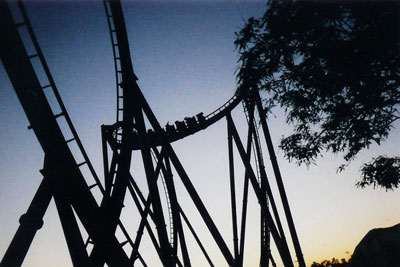 © Aaron S., Shelby, NC