School and Sports
May 27, 2012
As the conclusion of my sophomore year is just days away, reflecting on the good and bad times this year seems relevant. My sophomore year has been a lot harder and more stressful than freshmen year, but I expected that. I've taken harder classes and have taken on larger roles in my YPAS major, Design and Production. Nevertheless, I'm content with what the outcome has been over the past nine months. Sports have also taken an even bigger portion of my life than in the past years. Sports have allowed me to be more conscientious about my future plans about college.

The summer before sophomore year I became engulfed in college searches, spending hours on the College Board website, looking at colleges that match my interests. I became interested in Presbyterian colleges because of the scholarships they provide for PCUSA members like myself. I also broadened my horizons into searching for colleges in North Carolina because of my newfound love for NASCAR. Even though my college decisions don't need to be made until a year and a half later, I feel the need to start quickly.

On April 20th, I traveled to the Ohio State University with my father, brother, and some close family friends for a college visit. My friend, James is being recruited by Ohio State for football and the university invited him along with his family to visit. I've always wanted to go to Ohio State for college but this trip was completely different than the previous times I'd visited. We got to tour the football facilities and meet all the coaches. That experience really meant a lot to me because I've grown up an Ohio State football fan and getting to meet the men and women who make it all happen was amazing. That visit solidified my love for the university.
I recently found a scholarship specifically for Ohio State that was perfect for me. The Morril Scholars Program Distinction Scholarship is the equivalent to the value of full tuition, room and board, books, and other expenses. The cost altogether currently adds up to about $160,320 for all four years. To receive the Distinction Scholarship I have to meet at least two out of three requirements: top 20% of graduating class, 3.3 or higher on a 4.0 scale cumulative high school GPA, ACT composite score of 23 or higher or combined SAT Critical Reading and Math score of 1070 or better. These requirements don't seem too daunting, but I'm sure a lot of students will be applying for this scholarship by the time I need to apply. I believe my sophomore year has prepared me for my junior and senior years so that I can obtain this scholarship.
Another sport that has drawn my attention is UofL softball. The young ladies on the University of Louisville's softball team have impacted my school life tremendously over the last two months of school. I draw inspiration from their hard work on and off the field. Led by head coach, Sandy Pearsall, the team had a school record best 55-5 record and thirteen out of eighteen players were on the Athletic Director's Honor Roll meaning they earned a 3.0 or better for the fall semester. I really look up to them and how hard they work. They're like my big sisters.
A way they've impacted me directly is that to memorize the definitions of the vocabulary words I am given study is that I put them in sentences mostly having to do with UofL softball. The sentences helped me on my most recent vocabulary quiz. I couldn't choose between two words that went with a question. I knew the quiz was worth a lot so I couldn't afford to guess. I had to know. Then I remembered one of the sentences I had made for one of the words I had to choose between. The word was purport and the sentence I came up with to remember the definition was, "Dexter purports his love for Tori by asking her to marry him." Purport ended up being the word I needed so I got an 100% on the quiz which coincidently resulted in my percentage in English to raise one percent all because of one of the softball players' engagement.
Even though most times sports distract you from school, I've turned sports into an inspiration to do my schoolwork. I know that if I want to receive the Morril Scholars Program Distinction Scholarship then I need to work harder in school and raise the bar. Not just settle for the minimum. If I want to be like the thirteen players who got on the honor roll list, I need to exceed Manual's standards. All in all, I would say my sophomore year has been filled with twists and turns but I know I'll end it on a good note.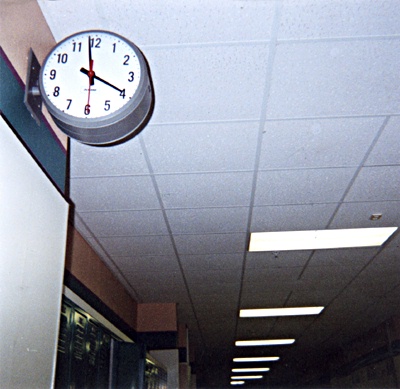 © Blake B., Highland Village, TX