The Wrong Gear
May 29, 2012
I had always wanted to play in a golf tournament that was a showcase for college teams all around the country. I had numerous cousins qualify for the tournament, and I was the only one left. They told me about the excitement, adversity, pressure, and the overall mood of the tournament that they say was like something that only happens once. When they would tell me these stories, I would imagine being able to play there, amongst past winners such as Tiger Woods, Phil Mickelson, Rickie Fowler, Bubba Watson, and the list goes on, and on with famous PGA pro's that have won. If I was going to make any sort of name for myself collegiately, I would have to place into the tournament. The tournament was held two different times during the year, and in two opposite side of the U.S. I qualified for the first one in California when I was 16. Most 16 year olds are worried about which car they get, or if they get their license at all. I was different; I just wanted to place into the tournament. The qualifications were to have played in a tournament ranked by the Mid American Junior Golf Tour (MAJGT) or the American Junior Golf Tour (AJGA), and place in the top 8. I placed in my first MAJGT event at TPC Deere Run in Silvis, IL. I came in 7th out of a total of 117 players, and 3 shots from winning the entire tournament. This opened up the door for me to go to The PING Invitational. The PING Invitational was one of the two major events, and that year it scheduled to be played at Torrey Pines Golf Club in San Diego, Ca. The tournament was from July 14-17. Torrey Pines has hosted a lot of famous golf tournaments including the 2008 U.S. Open, which Tiger Woods won over Rocco Mediate. I don't know about anybody else, but walking the same grounds that Tiger Woods did in his prime gives me goose bumps with just the thought of it. The only problem with the tournament was that I would have to go only with my father because my mom had to work and make sure my brother was at all of his summer camps because he was only 11 at the time.

My father and I arrived in California on the 10th, four days before the official start of the tournament so I could practice on the course a little, and because there was a mandatory meeting that I had to attend for the rules. My cousins told me that this tournament was like no other ones. They mentioned that the rules were slightly different, but they were cool, which I could not understand because how could rules be cool. But whatever, if my cousins thought it was cool, I think I'll consider them cool too.

When all of my practice rounds with my father were over, we were still both in awe. We still couldn't imagine how much history had gone down on the grounds that we were walking on. Memorable moments from my child hood came back to me from times that I watched Tiger, Phil, and other greats tear up the course and set numerous records. It was all fun and games until we had to go to the meeting. It was held in the amazing ballroom inside of the Torrey Pines Club House.

"Good evening, I can still remember sitting in those lousy chairs, and listening to some nut job on the top of the stage telling me what I can and can't do during this week. Well I'm going to make this short and sweet tonight so that those with an early tee time can go and get their rest. This tournament will follow regulation USGA rules stated in the rulebook. The only major regulation not stated in the USGA book or any other tournament that you probably have ever played in the dress code. On Friday, the boys will be wearing a red shirt with black slacks. Hats can be any type of color though. Girls will be wearing a blue shirt with tan slacks/skirts. Each day we will be posting which colors will be for the next day if you qualify. Enjoy the rest of your food, and I hope you score low tomorrow. Top 50 will advance to Saturday. Have a good night sleep." The alumni rattled off. The only thing that I could think about was how stupid the color scheme was.

"Who's the dumbass who came up with the idea of having a specific color? I mean come on, this s*** makes no sense." Said my father who was anguished with the idea of making us wear a specific color. I honestly didn't mind it but it was clever. You would then be able to distinguish who's playing where and all.

A man later got on the microphone and described how the tournament was going to go down the next morning. The first day's cut was the top 50, the next will be the top 30, and then finally, the top 10. The whole tournament started off with a grand total of 110 people, and of course two divisions, boys and girls age 16-19. There were also a total of 75 college coaches watching our every move. That still scares me to this day when I hear that number.

"Ok Tommy, lets finish this s*** and go to the room so you can sleep early because your got a tee time at 8:20 and your going to have to be at the course by 6:50." My dad said with a shaky voice. I could tell that he was as nervous as I was because he never swore so much.

I got to my room by 9:30 with a stomach full of pasta and club soda. My mom made a final good luck call, and to say good night because it was already 11:50 in Chicago. I don't know if your mother is like mine, but my mine always tries to point me in the right direction with what she tells me, and tries to encourage me through the thick and thin. I knew that she knew how I felt at the time with the whole ordeal and that her voice would give me some sort of encouragement. My mom is my protection blanket still.

My dream sleep was interrupted the next morning by the annoying, persistent sound of my phone alarm going off at 6:00. I would usually be upset with getting up so early during the summer, but come on, I was going to go and play Torrey Pines! I had already put out all of my clothes that I had to wear the night before. I put on my shirt and pants, along with my hat. You could tell that I was not a morning person by the way I dressed that morning. I had on a blue shirt along with my black pants, and my Taylormade hat. I'm so ignorant in the morning that I didn't notice that I wasn't wearing the red shirt that they told us to wear, and I didn't notice that every single guy walking to the range was wearing a red shirt and all the girls with their blue. My father was also oblivious because he wished me good luck and proceeded to the spectator's area so that he could get informed about the rules that he had to follow while walking the course.

While warming up on the range, I was interrupted by the golf coach from the University of Alabama.

"Son, what are you doing wearing that shirt and pants today? Today for the boys you are supposed to wear a red shirt and black pants. You will look very noticeable today, but that could possibly help you get noticed." Said the coach from Alabama. It was the most awkward talk I've ever had with someone. My palms were sweating, and I had already got a pretty good amount of armpit sweat.

Well, the coach from Alabama was right because I was very noticed by all of the college coaches. I played my best that day, shooting a 75, a three over par score, and was able to play through Sunday. I placed 7th overall, which made my parents so excited. The only problem was that on the last day, I tweaked my wrist that soon led to my wrist surgery which plagued me from playing my junior year of high school golf, but I did have the results of this tournament in my back pocket. What I can remember when I got home was just my mother's voice and how it sounded so soothing after all of the excitement, and nervousness of the past week. I'm glad my mom was there to protect me like a blanket.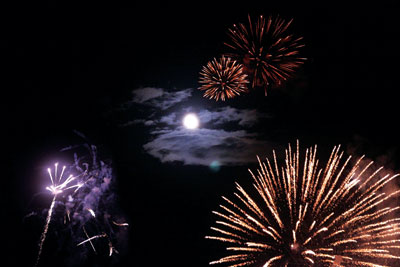 © Meena K., Groton, MA