Bullying
May 25, 2012
She holds her breath as she pushes open the door, knowing that the fiery flames of hell are just upon her. She placed a plastic smile on her face as she took a step in, trying to break the barrier between the fantasy world and reality. Who was she kidding, she knew how today would go, promising stares, whispers and hiding in the restroom from the terror of the others penetrating words of loathe. People are so cruel, she thought to herself, and it seems that their souls are only fulfilled when they have taken every sign of life out of yours. The tears stained as they ran down her face telling more of a story than her lips ever would. She sat in silence dreaming of a different and distant world where bullying didn't exist. That girl was me.

Exactly one week before, I was the happiest girl in the universe. I walked with my chin high, a swing in my hip and a huge smile. I wouldn't let anyone's cruel comments bring me down that was until my best friend said the cruelest things to me.

One day, we got into an argument over absolutely nothing. We both said cruel things and eventually stopped talking. I was heartbroken. I cried about losing him but, what hurt the most was knowing that I had wasted so much time trusting him and being with the wrong person. Telling him all my secrets, fears, and insecurities that he could now pull out of the sky and use it to hurt me; and that is exactly what he did.

He started rumors, called me horrible names, told all my secrets and pulled at my insecurities as if I was a puppet. Eventually, it went from just him bullying me to his whole group bullying me. They pushed me in the hallway, yelled mean things at me, held my secrets against me and started rumors that tore me apart. This went on for weeks and weeks. It got to the point where I turned on myself. I beat myself up and started believing what they said about me because so many other people did. Depression began to set in. I stopped going places because the fear of seeing him or his friends was terrifying. I avoided every possible encounter with him. I ran to my classes and went straight to my mom's car after school. Almost all of my friends turned on me and I lost full confidence in myself. It hurt so bad knowing that the person who meant the world to me ended up crushing my world.

Bullying is found in many different shapes and sizes but not one person goes unaffected. No matter how small the case is, it still hurts. There is no real reason why people are bullied but, there is no excuse to why it hasn't been taken care of.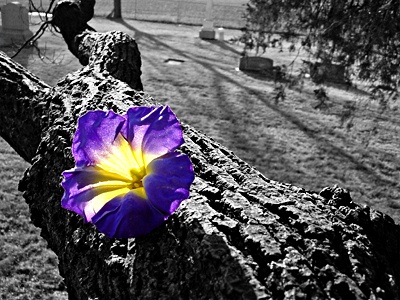 © Greg K., New Lenox, IL