The Holocaust Museum
May 23, 2012
I was antsy as I stood in line, unsure of what to expect. This was the Holocaust Museum, memorializing a terrible tragedy, a massacre that scarred human history. I was prepared to feel sadness, and possibly even to cry. I knew about Hitler, and how terrible he was, and I knew how many lives were affected by his reign of terror. I had read many novels and some history on the subject. The novels connected me more to the idea of specific individuals and families so tragically affected by this period of history. All my readings however, did not prepare me for the profound effect this museum would have on me, more personal than any novel, and more real then any statistic. I had no idea how much this place would change me.

Once I entered the museum, there were instructions to take a passport, which contained the story of a Jew affected directly by the Holocaust. The person my passport belonged to was a little child, age three, and her name was Blimcia Lische. I said a quick prayer to myself that this little baby girl had lived. She was beautiful, and she had a family who loved her, and lived a fortunate life until her family was torn apart at the beginning of the Holocaust. I had to wait until we got to the end of the museum to find out the fate of little Blimcia.

The first exhibit that had a particularly intense effect on me was that of a little girl with special needs who fell into the hands of the Nazis. The caption said that the photo was taken just moments before the girl was killed. I could not even begin to imagine this poor girl's confusion and panic, ripped from her family and daily routine. I tried to fathom what these men were thinking, and how they could ever justify their actions. I questioned how anyone with any respect for life could target someone with special needs simply because they are different and how hurt her family must have been. I was shocked at the injustice, and I felt the tears building up in my eyes.

The second exhibit that I will never forget was the hallway filled with shoes. The shoes of the condemned, the innocent, the young. The shoes of the people who would not live to see the next day. There was a quote behind the piles which summed up my feelings on the room, bringing clarity to my thoughts. "We are the shoes, we are the last witnesses. We are shoes from grandchildren and grandfathers, from Prague, Paris and Amsterdam, and because we are only made of fabric and leather and not of blood and flesh, each one of us avoided the hellfire." It made me think of the people who had previously owned those shoes: people with lives, friends, family, first loves and inside jokes. These people were flesh and blood, just like me, or my best friend, or my mother. In just a few brief minutes, everything they had worked for, or aspired to was stolen from them. It was just so wrong.

Finally, we entered the last room, where I realized I had a few minutes to spare, so I decided to watch the videos of some of the survivors' stories. One told of a woman whose father had forced her to wear her ski boots when they were deported even though it was June. She looks back on that day now, wondering how he could have known that those very boots would save her feet and quite possibly her life during the freezing weather of the Death March three years later. Another told of an eighteen year old man who had taken a younger boy under his wing. The younger boy called him Shmulu. They made a stop at a farmer's house, and the farmer immediately took to the young boy, giving him extra food. Shmulu, despite the boy's protests, forced the boy to hide in the straw of the barn and come out only when everyone was gone knowing the farmer would take care of him. He showed an immense amount of love and responsibility when he did this, knowing the boy could not go on much longer and that his chances of survival would be better with the farmer. He never saw the boy again. The final story was of a woman who had no clue that she had been liberated in 1945. An American soldier came up to her at the entrance of the abandoned factory she had been held in and spoke with her, and she told him that he must not understand, she was a Jew. He replied, "So am I." He held the door for her as they went inside and at that moment she felt human again, truly liberated. That very man who made her feel the freedom from oppression through his holding the door became her husband. Needless to say, at that point I was bawling.

When we reached the end of the museum, I opened up my passport to read that my little Blimcia, who I had become attached to in a matter of one hour, was gassed days after entering the concentration camp. How could the world be so cruel? I was so confused and so full of grief. I felt as if there was a weight on my chest. People tried to comfort me, but how could I smile or laugh, or feel better when all of these people were dead and didn't get to do any of those things again? Their experiences and future were ripped away.

I tried to imagine being in these people's shoes, knowing the emotion this was bringing me sixty years later. I could not imagine the despair of a mother torn away from her child, or the confusion of the people in the gas chambers. As I walked out there was a sign that said, "The next time you witness hatred, the next time you see injustice, the next time you hear about genocide, think about what you saw." I know that I will never stop thinking about the things I saw that day and I will work as hard as I can to prevent anything like that from happening again. Prejudice must not be allowed to take over our lives, and cloud our judgement. I will give those people a voice in the choices I make today and in my future. They deserve it.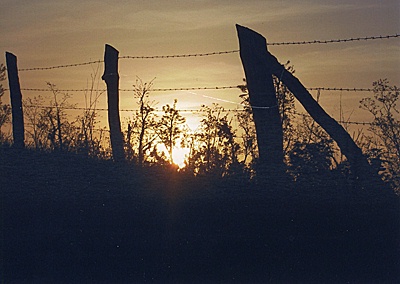 © Michael T., Letart, WV