The Journey
May 20, 2012
Someone once told me that it is all about the journey. Well, I used to disagree because I loved the destination. I have always felt that reaching the "destination," physically or mentally, is the most fulfilling part of a journey. But then, I would stop to think of all those times of family vacations in the car. My brother and I would share horrified looks and cringing shoulders when our parents wailed out the tunes of Celtic Woman and Abba's "Dancing Queen." I recall sketchy gas stations and loading up on cheddar Chex Mix to relieve hunger pangs. I don't forget to laugh at the time when Mom forgot her purse at Cracker Barrel or any other restaurant, for that matter. However, maybe my favorite memories consist of "life" talks at one in the morning over dusted sugar-coated French Toasts at Denny's. Or when Dad the designated driver, no questions asked, took multiple wrong turns and blamed the map for his obliviousness.

In the summer of 2009, we found ourselves stuck in the sand-bitten, windy deserts of Arizona. I remember my father was the first to spot the Navajo Indian stall filled with ivory, teal, emerald, and limestone jewelry. Beaded dream-catchers hung on nails tacked into the wooden posts that held the stall together. Crimson feathers bedazzled leather headbands made for five-year-old Indian chieftains. We ended up staying to talk to the natives, an elderly couple, who owned the stall: they came from a desolate environment with scarce water, harsh wind, and no neighbors. I studied their leathered, tanned faces that cracked like clay when they smiled. The older woman sat in a rocking chair with one, long silver braid running down the middle of her back. The man's hands were callused, and he wore snakeskin bracelets on both wrists. Both dressed in bright garbs that bore the mark of nature's colors: violet, blue, and green. While my parents engaged in further conversation with them, I ran a few feet away to stand upon the flaming Arizona cliffs streaked with canary yellow, burnt sienna, scarlet red and auburn orange. I spread my arms to embrace the wind, but instead of warm caresses, it drove against me in violent rushes and pelted my naked arms and legs with pebbles and sand. I ran back to our Honda rental car, laughing in defeated defiance. After receiving the right directions, we loaded back up in the car along with five pairs of earrings, two wooden flutes, and three pieces of woven cloth.

We made it to the Grand Canyon: forged in glory, it was a sight to behold. I imagined that God had wanted to play a game of catch and decided to chunk out a piece of the Earth as a makeshift ball. Then, my thoughts passed to the Navajos and those Arizona cliffs. I realized that without such small encounters and pitfalls, the destination is not as rewarding. It's the times spent getting lost, storing up on junk food at gas stations, meeting new people from different cultures, and singing out of tune that really count at the end. Those moments and memories might seem small, but they're the ones that last. I believe it's the whole process that makes everything worthwhile. As for me, I now agree, it is all in the journey.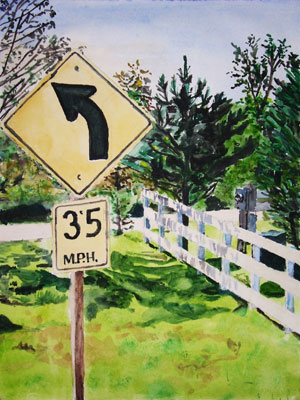 © Tim K., La Crosse, WI