You won't let me forget it
May 18, 2012
Have you ever had a time in life when you made a mistake? Well of course you have.Everybody makes mistakes. But you have to move on from them and not let them drag you down or hold you back from being happy. Well there is always that time in life where one person won't let you forget about what you have done. All I want to do is make that person happy and try and live the rest of my life.

But it hurts me when every time I get close to someone that that person won't let me. Even when I are going to be hanging out with the people I always do, that person throws what I have done back in my face and just puts me down. I don't think she will ever trust me again. It's hard to live life when I know that whatever I do I'm being watched and have to be perfect and can't make any mistakes any more.

I made one mistake with a friend of mine and now my mom won't let it go. I can't even go and hang out with my two best friends any more because one of them told me that he liked me. She doesn't trust me at all and thinks that I'm going to make the same mistake I did before. That mistake I paid for I lost all of my friends, and my family look at me so differently. I was hurt that the one person in my life I can trust won't trust me. I know that the things I have done are life changing but I learned my lesson and it was over a year ago, almost two, and every time I get close to a guy, she pulls me away.

I just want to learn to move on from the things that I have done, and have the people in my life trust me and know that I'm not going to make that mistake again. I want them to move on from this and I can never move on in life and be happy if they can't. If they keep bringing it up and pulling me down with it, then nothing is ever going to change. I know that she wants to protect me but I know that it was wrong and have to move on from it. I feel so alone. I know that I have friends but if she doesn't let me see them, then I can't live my life and be happy about it.

I just don't want to feel alone any more and I want her to trust me.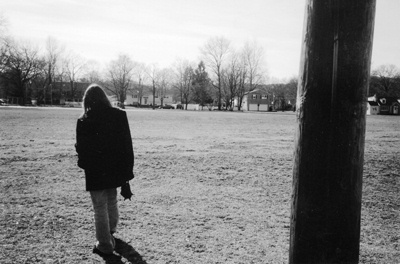 © Rosalie P., Pompton Plains, NJ