Technology and Me
May 17, 2012
When the telephone rings at my house, I am the first to check the caller I. D. I am also the first person to silence the ringer and claim that it was a telemarketer regardless of who was actually calling. Of course, no one calls me anymore; my friends learned long ago that I avoid telephone calls like the plague and those who haven't are engaged in a never ending game of phone-tag which I almost always win. It's not hard, seeing as I don't have a cell phone and my home phone is consistently "in need of repair." But high school girls are persistent, and in the last month alone I am sure at least ten people have promised to "Facebook" me invitations to hang out since I am unreachable by phone. I am not sure what bothers me more, the fact that so many people seem to think "Facebook" is a verb or the fact that they still can't seem to remember that I don't have one. Enter my use of modern technology, or perhaps the lack thereof. People must think I live in a cave. Well, if caves feature cable television with direct access to Netflix and Amazon Prime to feed my TV habits, then yes, I suppose cave might be an accurate word to describe my home. But generally speaking, I'd say I'm a bit behind on the technological times.

Despite my natural aversion towards all prevailing trends, technology does play a relatively important role in my daily life. Of particular relevance is the computer, which has become an essential part of the way I live. In this day and age it is impossible to function in school without using a computer on an almost daily basis. It is an expectation, practically a requirement that I have access to a Word program and the internet. Unfortunately, this tends to pose a bit of a problem. Our internet connection is terribly spotty and I can't afford Microsoft. Accessing and using the web has proved difficult for me on multiple occasions; likewise, formatting papers correctly requires bringing them to school in order to transfer them to Microsoft Word. Generally speaking however, both of these are tools which I use daily in order to complete my schoolwork. On top of that, I have an email account. If there is any chance of talking to me outside of school, email is the way. I check it every day in the hopes that my Father will email me from Afghanistan. However, that is the only thing I am hoping for and I tend not to let just anyone have my email address. I prefer to initiate all social situations I engage in and letting people email me all willy-nilly could potentially destroy my life as a hermit outside of school. Clearly, I work very hard to retain it. In the spare time I gain from avoiding people, I watch television in large quantities. Though I haven't sat down and watched anything for quite some time now, when my life is less turbulent I am a self-described "TV junkie." My love for plot and character extends outside of the realm of literature, resulting in excessive viewing of movies and television. Crime shows, historical documentaries, carefully selected reality television, and gripping dramas usually created by J. J. Abrams grace my TV screen. I used to watch three movies a week, back when life was simple and time was abundant. Now I spend mindless hours at the computer, my ancient iPod playing quietly in the background as I write English papers.

There is one exception to my self-imposed rule that the computer be used purely for academic purposes: novel writing. The hours I have squandered reading online articles on 18th century portraiture and the political events in post-Revolutionary France are so numerous I cannot even begin to guess how long I've spent simply researching everything I plan on writing. Certainly more time than I've actually spent being productive, unless you consider staring at a blank screen writing. Because I am related to multiple aspiring novelists and poets, a significant portion of my time is spent reading and editing their work on top of my own. I've gained a sort of reputation as an excellent editor among my friends and family, so I've something to critique almost every day. Though I am a bit sloppy in regards to my own work, I become painfully fastidious when reading the work of others. Unfortunately, this results in my spending even more mindless hours staring at my laptop screen, although these hours involve much more actual typing as I reconstruct all of my grammatically-inept cousin's sentences. For some reason I cannot fathom, she has hours of free time every day which means I have hours of vampire-filled chapters to read. Being her editor encompasses about as much time on the internet as all of my schoolwork. I might even call it my primary use of technology. Frankly, it's a little sad and I personally feel that I ought to be paid.

If asked to summarize my use of technology, I would probably say something as follows: I use technology to accomplish the majority of my schoolwork, because writing a paper is simply more convenient on a laptop. I use it to keep in contact with people I don't often see otherwise and to stay an active part of their lives, even if it means reading hours of insipid reports and trite vampire stories. I use it to squander hours of my night gripping my seat as I watch season three of Lost on days when American Idol isn't on. But perhaps a better question would be what don't I use technology for, to which I would have to reply texting, phone calls in general, social-networking, gaming, and managing my time in a more effective way. Based upon my conclusions about the future of society however, I will probably need to learn to use a touch screen soon.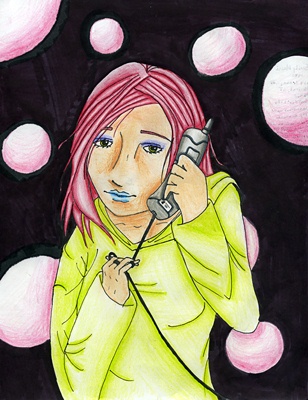 © Emily M., Milford, CT