Most Memorable Volunteer Experience
May 17, 2012
Over summer, I did not take trips to the beach, or to visit Grandma. Instead, I spent a week away from home, waking up early, sleeping on the floors of classrooms, eating sack lunches, working in the sun, meeting new people, hearing incredible stories, and serving others. Each year my church sends over three hundred teens to various cities across the country on mission trips through Catholic Heart Work Camp. I have been to several camps, but my most impacting camp experience, the one that truly changed how I viewed myself, was the week I traveled to Memphis, Tennessee.

That summer, I was clustered with a memorable group of teens. We all clicked right away, becoming an odd sort of family. Our assignment was the Mana House, a shelter offering hospitality and showers in the morning. The mornings consisted of us distributing clothes, toothbrushes and basic necessities in the shelter, and serving and interacting with the guests in the backyard. The guests left around noon, and we would have lunch. After lunch, we cleaned up the backyard area, pulling weeds and using a left blower, and we also painted the back wall of the house with bright colors and made a mural of coffee mugs to lighten up the area. We also completely rearranged all the storage inside making everything very easy to find and user-friendly. The Ladies-Only Shower Day was especially touching because even though these ladies would just go back to the streets afterwards, they all wanted to pamper themselves. They would search for just the right outfit to wear, trying it on and asking how they looked. Some spent time putting "a little color on their cheeks", but each and every lady needed to use some "smell good" before they left. One lady looked me right in the eye and said, "Just because I got nowhere to sleep at night doesn't mean I can't look good!" It made me realize that these were everyday women, just like me; they just made a few wrong turns in life.
Other days, I was assigned outside to help refill coffee and interact with the guests. Another camper, Derek, and I ended up talking to an older gentleman for over an hour. He told us his life story, about growing up, his schooling, his various careers, his family, and ultimately how he ended up homeless. Derek and I are still very good friends, keeping up over Facebook, and we reminisce over that week constantly. The story of that elderly gentleman always returns because we were both inspired by his words, and his willingness to tell us his memoir. Our last morning, I played chess with another older gentleman named Marvin. I am not the best chess player, so he easily could have trampled me in minutes, moving onto his next victim, but that was not his intention. Marvin wanted me to win; he sought to show me how to become a better chess player. I would make a move, and he would make faces indicating whether my move was advantageous. Though our conversation did not extend beyond chess, he impacted me the most because he reminded me considerably of my dad. He had a fatherly instinct about him, taking care to show me right from wrong and teaching me every chance he had. It was such a memorable morning, and neither of us wanted the game to end.

On every mission trip, you never know what to expect because each day brings a new batch of surprises, from nicely smelling ladies, to winning a chess match. From that week I learned that the homeless were just people; we can judge them all we want, or we can give them a place where they feel welcome. Now when I see people on the streets, I think back to those I met in Jackson, and I how I realized we all deserve a second chance and a place we are always embraced.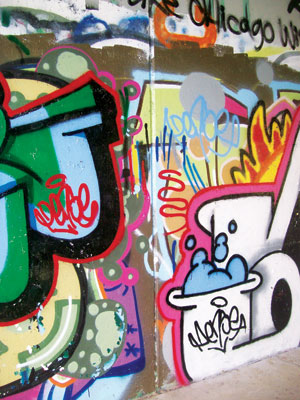 © Michelle W., Ada, MI