where should i go
May 14, 2012
The day is young. I only know what to expect, but not what will be there for me as I arrive. The uneasy feeling as travel proceeds to the place which I hope not ever to return. It's a ten hour flight, in which I never shut an eye. How could I?

My entire being screamed with anticipation. It wasn't only me—as I look toward my family I see the same giddy child like excitement gazing back at me. As the aircraft comes to a sudden jerk, it is done. And we proceed to the unknown.

The fresh salty air is damp and full of life, almost like a punch to the face as the transition from the cool air conditioning takes place. It is night and my brain screams to find what I came for, just for a glimpse of this place. I must sleep and start fresh in the morning, able to spring out of bed in the AM and proceed into this new world where so many stories are produced. I will see tomorrow, through the limitless opportunity to enjoy every second of the day--whether it consists of doing something crazy or just sitting back and watching the minutes go by.

I don't know where to look, or what part of this world to admire first. The sun on the horizon is blinding, pushing its way into my freshly energized eyes. To my front, I stare at an endless silky blue carpet, one of infinite possibilities. What may lie under the surface could take the breath away from even the best of us.

The world of colors are more vivid than the bursts of July 4th.To my back and either side, I inspect my surroundings, seeing the great volcanoes which litter my surroundings, like a stack of quarters which has fallen over. I am now standing on the top of a 1.5 million year old rock, which produced itself.

Out in the middle of this ocean, I see a world of its own. Exploding out of the surface of the unforgiving, salty sea, in a brilliant frenzy of environmental beauty. Break the surface and find a world much different than our own, there cannot be a much better sight.

I meet the endless sky right as it meets the seemingly endless ocean and I find my bliss. it is as if time is at a standstill, everyday is as beautiful as the previous, all filled with gobs of sunscreen intertwined with tropical drinks. The land is so great but looks insignificant, a mere belt of freckles resting on the blue belly of this earth.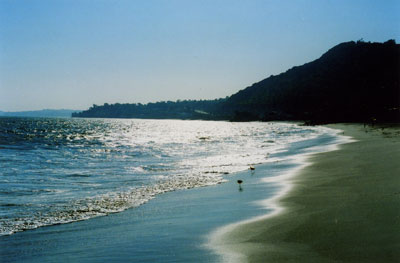 © Adam L., Washington, DC