The Power of a Free Throw
May 11, 2012
I believe in the power of a single free-throw. Yes, fans go crazy for the buzzer beater three pointers and slick behind the backs, but I think that a free-throw holds even more power. Players and fans live for the exhilarating moment when the ball spins off the sweaty fingertips of a player's hand and brings a gut wrenching hush over the crowd as they wait for the shot to sink into the white net.

Just over two months ago, I witnessed a free throw that brought an entire arena to tears.

Once a year, we welcome our across town rivals to "The Jungle" which becomes packed with a sea of green and red fans, but this year, pink was the color. That night, two high school rivals faced each other under the hot spotlight of thousands of fans, but as Firebirds and Lions, we all came together to support the fight against cancer. This LHS vs. Freestate game would be more memorable than any other.

Unfortunately, about halfway through the season, I suffered a torn ACL, which took me out for the season, so that night, I sat on the bench with my leg propped up and awkward crutches by my side. I remember watching my team, like a second family, warming up and thinking to myself, I would give anything to be able to step out on that court tonight. With about eight minutes until tipoff, we made our way into our home locker room for the last time.

Coach began to lay out the game plan and get us all revved up like he always did, saying, "No matter what, we are going to leave everything out on that court tonight". The anxious butterflies felt more like a huge swarm of bumblebees rumbling around in my stomach. Nerves and exhilaration flooded the sweaty locker room as we listened to the muffled sound of the band playing "Won't You Be My Girl" to get the crowd hyped up.

Right before we took the court, I remember our coach looking around at each one of us before his eyes landed on Lauren. He said, "Ladies, whatever goes down tonight, something is going to happen out on that court that is bigger than any win."

Lauren, a guard for our C-team squad, was going to be the MVP of the varsity game that night no matter what. Her father was diagnosed with glioblastoma, or stage four brain cancer in January, which in his case, is not curable. Although his life would soon be cut short, that night, he would get the chance to see his daughter be the star player of a varsity basketball game.

As expected, we were down by a good seventeen points by the end of the third quarter, and the crowd was beginning to fall asleep. Coach knew it was time to call in our secret weapon.

The minute Lauren began to take off her warm-up jersey, the crowd went wild as if someone had turned off the mute button. The arena was truly alive for the first time, and all eyes were fixed on the court. As she entered the game, a thunderous roar consumed the gym, and for the first time all night, our entire bench was grinning. In that breath-taking moment no one cared what the scoreboard said.

With everyone's attention now on the game, our team threw the ball inbounds, getting ready to break through the Firebirds tough press. When all of a sudden, I heard our coach shouting, "Throw it to Lauren! Get the ball to Lauren!" Then, as Lauren caught the ball at about mid-court, I heard the Firebird coach yelling, "Foul her! Foul her!", and his team did so without hesitation. That's when I remembered we were into double bonus already, so Lauren would now get to shoot two free-throws!

With the entire gym on their feet and hands in the air, Lauren stepped to the line. I could feel the enormous volume of love and support being poured out toward her and her brave and inspiring family.

Every single person in that gym, Firebird or Lion, was rooting for her to make the two most important shots of her life. In that moment, two rivals united for one family.

Suddenly, the gym began to hush as Lauren started her free-throw routine. Those bumblebee nerves and excitement that I had right before the game swarmed back into my stomach. I had no idea why I was so nervous. I wasn't the one with hundreds of eyes anxiously waiting to see if I would make the free-throw.

Lauren snapped her wrist and followed through, just as our coaches had always told us to, sending the ball spinning toward the basket.

Swoosh.

That's all it took.

One free-throw.

Tears began to fill everyone's eyes, and an indescribable electric sensation surged throughout the gym as the student section started chanting, "Lau-ren, Lau-ren, Lau-ren!" I don't think it was humanly possible to be standing in that gym and not have goosebumps from head to toe. Overcome with a mix of emotions, I caught a glimpse of Lauren's dad wearing the family's "Never Never Never Give Up" t-shirts. Tears of joy streamed down his face. That's when I realized that I wasn't just watching a basketball game anymore; I was witnessing a major triumph for a family that had little to be happy about.

A free-throw is more than just a ball going through a net. It is a shot that can unite a community and supply a struggling family with hope. Free-throws are now my reminder of how important the little things in life are, like being able to wrap your arms around your father's warm embrace.

I believe in the power of a free-throw because cancer can take away a lot of things, but it will never take away that moment.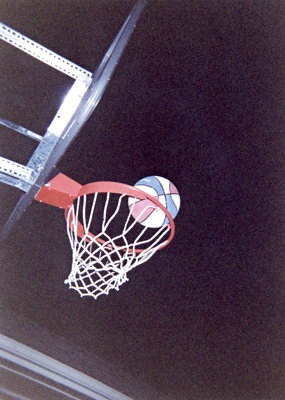 © Laura P., Highland Village, TX