The Best
May 4, 2012
Its the morning after. The morning after losing National History Day. I never in a million years thought that I would lose.. ever. I tried harder on this project than I could ever imagine and still, my best isn't good enough. When will my best ever be good enough? With school I work harder than imaginable and still I don't get the results I want. I smile and push through the disappointment that I have in myself because school is one of those places in which I can attempt to feel confident.. Yet, you see, National History Day was one of those places that I KNEW I could feel confident–having made it to nationals for the past 2 years, and looking forward to this one.. I guess not, though. In this case, it's clear that my best wasn't good enough.

And then you just look at him. What about him is so perfect? Is it bad that all I can think about is his hands, with his fingers intertwining with mine?.. How all I want to do it kiss him and can't help but hope he feels the same way. He tells me he wants me and only me, but why can't I believe him? Why do I obsessively consume my thoughts about those other girls. .... I mean .... I feel like he wants them too, in some sort of way. How can you compare their thin and perfectly sculpted bodies to mine... Lets face it–I look like a f***ing hippo in comparison... I want him so badly, is that so much to ask?! Why can't I be smart, beautiful and funny, but just being desirable would be enough.. I guess my best isn't enough here, either.

When will I have confidence in myself and be proud to be me, even at the moments when I'm not my best? When will the day come that I can look at my report card and be 100% satisfied with my work? Will that day ever come? When will I be able to look at him and tell him that I love him and not be afraid of what he is going to say? When will I be able to trust him and have confidence that he wouldn't lie to me? When will being the best no longer matter?

I'm looking forward to those better days ahead, but for now... I wait–"waiting to die, waiting to live, waiting for an absolution."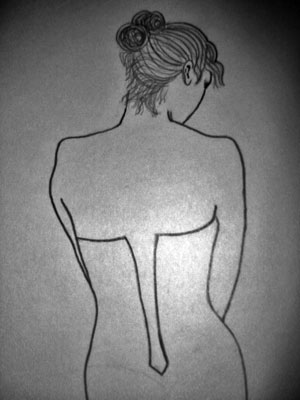 © Jennifer B., Larchmont, NY