The Bandkid Connection
May 3, 2012
It's ninety degrees outside, and I'm wearing heavy dark clothing suitable for only the coldest days of winter. I am indistinguishable from everyone else surrounding me, but I know I am just as vital to our success as everyone else. We're silent. Hundreds of strangers in the stands hold their breath not out of excitement, but of instinct. No one moves, and for a moment, time stops for us. Four heavy beats that are both spontaneous and entirely expected sound from a bass drum, tumbling into my senses and tuning my heart to our tempo. This is marching band, and there is nothing else in the world that has brought me more pride.

Entering high school as bewildered little freshmen, the majority of my bandmates (myself included) dreaded "band camp" and its reputation of enforcing rigorous military-like training. On our first day in mid-June, thick, complicated drill charts and music we weren't surewe could play were distributed between students. After a brief explanation of how to read the charts, our band director, known only as Pollock, led us through winding hallways and around the side of the school to a football field, one we would become very well acquainted with by the end of the summer. After five hours of continuous drill training and endurance exercises that morning, I don't think any of us wanted to set foot on that field again. I was tired, hungry, sunburned, and angry at the world for no other reason than "because I can". Despite all of this, I came back the next day, and the next week, and soon the next months. After the summer of training ended, I felt indescribably proud of myself for displaying perseverance I didn't think I had.

When summer ends and football season begins, marching band gets really intense. The first game of the year is always the biggest, as it is between us and our rival school. The animosity in the air is almost tangible. Hours before the game begins, the bleachers are already packed full of hundreds of students and parents. Wild cheers soon signal the start, but us band kids don't pay much attention. Tonight, our months of practice will finally be put to use when halftime arrives. The sun has fallen just below the stands that face us, turning the sky a dark pink and creating a wide glare across our audience. The effect is ethereal. Pollock gives a signal to move out onto the field. The drills have been beaten into us enough that starting position is an act of second nature. During that walk, a transformation occurs. Before, we were students, giddy and nervous. Now we are one being, a family unified so completely that we walk to the same rhythm. No one speaks. Our audience is silent. The sun dips a little more and the sky is bathed in a brilliant red, the glare almost completely covering the towering bleachers we stare down. I hold my breath until the beats of a bass drum are felt through my feet, reverberating within my chest, and together we all take the first step.

Not a lot of people realize how serious band is. It's a commitment, and an undeniably hard one to keep. It ate away at my coveted summer vacation, took up time and energy I wasn't interested in giving up, and required a level of discipline I didn't have. It was a learning experience. I was never into sports or clubs and team spirit was a stranger to me. Even though I so badly wanted to quit, to just go home and sleep and forget about having to go to practice the following day, I didn't quit and that was also something I wasn't used to. Because of this, my time in marching band is one of the few things I'm really proud of.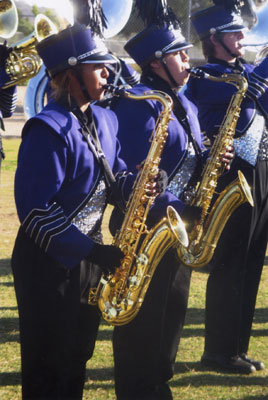 © Laurie R., Phoenix, AZ