What I See on a Day at the Beach
May 1, 2012
"Swoosh!" I hear as the sparkling blue water crashes up against the hot, golden sand.
As I taste the saltiness through the air, I run away quickly as I charge right for the sand, safely away for the large ocean. Smelling the salty dew get farther away, I swiftly head up to the sand dunes, away from all the action.
I, the cute little crab on the beach, see, hear and smell everything.
Outside my little home in the late afternoon, I see the splashing little kids playing with their beach balls in the crystal clear waters. I hear them laughing loudly as they get splashed by their parents. And I watch myself leap into my hole for safety as I run away from the sprinting kids, and the pecking seagulls.
The fishy smell I get that tickles my nose tells me I am near the water. The loud, blue, splashing of waves tells me I am on the beach. And the gritty feel of the sand tells me I am home, and I know there is no other place I would want to be.
Have you ever seen what I see? Well, maybe, but at least not from my angle.
Down below on the sandy land I look at the beach as the most beautiful, breath taking wonder on this earth.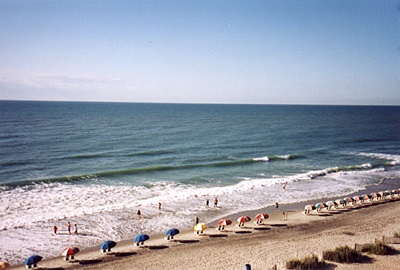 © Josh J., St. Albans, WV