A Wounded Heart
May 7, 2012
Nothing wrong with exploring but when you lie to the one person you love; you break that trust bond and disappoint them. It's hard though, telling that person you lost something so valuable, not to you, but to them, something you can't get back. That one moment they wanted to share with you is gone… But telling them it still exists. Telling them "you're the one I want to do this with." Like you haven't wasted it on an unimportant factor that is, by the way, always included in your life. The guilt of pleasure you can't stand just to keep reminding you of that one mistake; that one thing you can't take back once taken. You yourself feel it's not important, frivolous, unworthy of your concern because you can do it again and again and again. But to him, the first time is supposed to be one of the best times of your life, the big boom, the feeling of your body rising off the ground, floating in mid-air feeling sensuous, arousing, fleshy, etc. But instead, you wasted this, for a one night stand and still enjoying this act of consequential wrong doing, still untruthful and deceiving.

And it always comes back to mind, internally conflicting whether or not to surrender the truth or continue to selfishly benefit yourself thinking you're saving him from the anguish you've created. His heart is not a toy, but you continue to take it and throw it around like a rag doll. How would you feel if this was happening vice versa? If you were the victim of his selfish game… you'd feel hurt and betrayed. So why are you harming this innocent soul with your lies? Punishing yourself with this heavy burden called "guilt" weighing you down, putting you in so much agony. Your heart tells you no, not wanting to hurt him, but you've already done that. That smile he gifts you with only makes your heart drop to your feet. Your conscience is so overwhelming, when he holds you close to his heart; you hear the painful cracking of yours. The loath you feel for yourself for this heart crushing, cheating, corrupting act, yet, he has no knowledge of it, kills you inside. Looking deep into his eyes, gripping his hand, wanting him to hold you until the end of time, you feel, is all a lie. Still, you're rewarded with his trust, loyalty, love, and honesty.

This only brings you to feel remorseful, low down, down-hearted, and regretful… Your feelings turn to hatred, loneliness, and revenge. He deserves it for abandoning you, leaving you in an isolated stage. How he took his time to admire everything from your physical appearance to your shattered heart inside, repairing the damage that was done so many years ago. Healed the grieving pit in your chest by putting a smile on your face every day, trying his best never to make you feel unsatisfied or how you felt in the past. Never wanting to see the opposite of joy; not once angered by him or his actions. Now, longing for his touch, your body aching, wanting to reach out and touch his delicate frame. It somehow drives you mad not being able to see him at all. Sometimes looking out the window wondering "Is he thinking about me?" and hoping you'll get another chance to hold him and never let him go.

Love was created to heal any broken heart. That may be true, but love was also created to teach the weak-hearted, the easily tricked, the ones who fall too quickly, that love has a dark and dismal side. Those are the ones whose heart is always hurting, who hide their pain behind anger and constant frustration, who consider themselves as independent, never trusting anyone else to handle the broken, shattered mess that lies in their chest. This is you…. Wounded and left alone to face the world without enjoying one of its greatest gifts that are offered. Now leading you to believe you aren't worthy of a chance at love; not worthy of being happy. You've been left so many times; your heart is getting weak and tired of the reappearing feeling of loneliness. You can't help but think it's too good to be true every time he says "I love you". You think you're not worthy anymore, of something so perfect.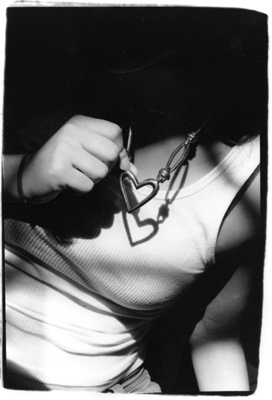 © Julia R., Bethesda, MD