My Father, From the Backseat
April 26, 2012
"So did I tell you the story…"
I exhale sharply. My breath intrudes on the peace of the dust particles that dance in the sunlight. You know the ones. They seemed like magic when I was younger. Now they sadden me, trapped in a prison of sunlight.
I swallow sharply, the silence disturbed by my father's sudden vocal outreach.
"Uh. I think…I mean I can't really remember."
He nods slowly, not bothering to continue. This is how we are, my father and I. He and I reside in a sort of understanding, we don't need words. Our silence is often comfortable. His speech throws me, and I feel as though I'm submerged and can't breathe. Any words I may speak will say too much or too little. Anything seems inadequate. We remain quiet until my mother returns to the car. As soon as her car door slams he seems shaken. She launches into a story that neither he nor I truly hear. I'm too busy thinking. He makes me think too much. I have always been comfortable with our silence, never truly seeking an alternative. We were comfortable, not cozy. When he spoke to me I felt as though maybe he wanted more from me. More from our relationship.
All I know of my dad, I captured from the right passenger side of the back seat. I always choose to sit behind my mother, because I can see the outline of my father's profile, and he can see me in the rear view mirror. I memorize my father from this perspective, and all I truly see is his right ear. There are 6 tiny wrinkles in front of his ear and 3 tiny wrinkles behind his ear. There is a white spot on the fold of his ear that never seems to tan. And he has two moles directly behind his earlobe, lined up like a constellation. I have no doubt that I could identify my father in a police lineup if his entire body was covered up, save for his right ear and the one inch space directly surrounding it.
Part of me always wonders if perhaps this is how he feels about the image he captures in the rearview mirror of me. My eyes, forehead, bangs. These are the things my father sees of me, mostly.
Despite our lack of communication, I know I am my father's daughter. He has a sense of excitement and intensity that surrounds him around others, like me. But we seem trapped by the four walls of our home. Our personas change as soon as we cross the doorstep. My mother is a similar case in a different way. While her imprisonment can be cured with a trip to the drug store, my father and I never seem satisfied.
Often I cross the doorstep, and immediately the panic sets in. More often than not I walk quietly to my room, lock the door, and lay on the cold wooden floor and scream silently at the ceiling, willing it to disappear. I notice that when my father returns home from work, the light leaves his eyes. He retreats to his bedroom. Door shuts, lock clicks. Does he too lay on the floor? Silently scream? Wish things were different?
This is not the life my father dreams of, and although we never speak I know he is unhappy. Ever since I was little I could recognize this fact. Perhaps it was his craving for something interesting to happen, the way he would submerge himself into hobbies that lasted months, even weeks, that he seemed to lose interest in all too quickly.
I remember being one of these hobbies. When I was in grade school, maybe 7 or 8 years old, my father got laid off for about a month. For that month, we were inseperable. We bought tiny remote control race cars that we would race around the island of our kitchen for hours. He would tell me I would become the first female quarterback in the NFL and trace invisible plays on the backs of his hands that we would run over and over until I could catch the ball 50 times in a row and throw a football with a perfect spiral.
All too quickly, he was called back to work, and in the midst of it all left me. Confusion set in, and thus began the cycle of comfortable silence.
I often feel as though my father is stuck in a box. Maybe a box that is dark. A box that sometimes sunlight may reach into, and these are the moments that the silence is broken.
Part of me knows that my father and I share an unhappiness that stems from a similar place. Perhaps if he were able to escape his box and I were able to break out of my comfort zone, we might become friends someday. This is what I hope. I hope he finds happiness and I hope I find strength. Until then, we'll be memorizing parts of each other in a sort of dreamy way, never speaking, but knowing exactly how the other feels.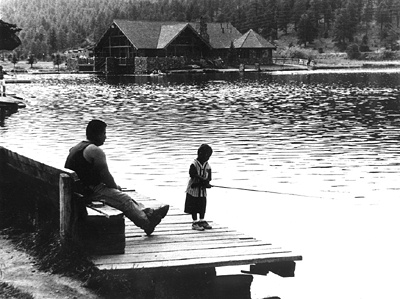 © Ryan P., Greenwood Village, CO