Coming to America
April 24, 2012
I was three years old when my dad and mom had left my brother and me to live with my aunt. I remember that day very well. It was about six o'clock in the morning; my mom had just finished packing her clothes and personal belongings and was now waiting for my dad. It was now 6:10am exactly. My dad hurried out of his room and looked at my mother who was standing over my bed, not knowing that I was awake and listening to everything they mumbled.

"¿Ya nos vamo no?" my father said to my mother. My mom glanced over at me and my brother, and I could see that in her eyes she didn't want to leave. After a minute, she finally said "Si vamonos." As they walked out of the ancient wooden door that was next to the kitchen, tears started running down my face.

My brother looked over at me and said "¿Porque estás llorando!? ¿Eres una niña o que?" After that, I thought about it, and I guess there wasn't a need to cry. My aunt had come to live with us; she was going to be taking care of us.

Two years had gone by, and I was now five years old, and my brother was seven years old. That evening at our house we were having enchiladas for dinner. That day the phone started ringing. My aunt had said to not answer it, so I didn't. The phone rang six times, and then stopped. The phone started ringing for a second time, and my aunt looked at me and gave me the look of "you better not answer that phone." I knew that it could be a very good chance it might be my mom and dad calling me from the United States of America.

I answered the phone, and on the other side of the phone, I heard a voice that sounded a lot like my mothers, she said, "Hello…. Hello." I couldn't believe that it was actually her on the phone. I wanted to say hi, hello but the words just wouldn't come out. After about a minute of nothing but dead silence, I finally found myself back to reality and I said, "HI!" with excitement.

She asked how I have been and I said "good", we talked for a while. After about an hour of talking to her, she asked me if I wanted to see her, and if my brother and I wanted to go to America and live there with her, and my dad.

I quickly responded, "Yes!" with excitement and without even thinking about it. After that I gave the phone to my aunt and she talked with her for a while. While my aunt was talking to my mom I finished inhaling my dinner that my aunt had prepared for us. When my aunt hung up the phone she had the biggest smile on her face. I never knew she had so many teeth. She was always the person who was always very serious about everything. Me and my brother both sat and talked to my aunt before we went bed. She started out by saying that we were going to be moving to America in two days, so we should start packing our bags. She talked about how it will change our life a lot, and how we will do better in life and have more opportunities in the U.S.

The fallowing day was Friday, and I was up and ready to go to school before seven in the morning. This was going to be my last day of school. I was excited and sad at the same time. I was excited to see my mom for the first time in two years. I was sad because I was going to be moving, and I knew I wouldn't be able to see my friends anymore. All of my friends thought that it was the coolest thing ever that I was going to move to the US. After a long day at school I ran straight home so that I could start packing my bags, and be ready for what was yet to come. The only problem was, there were too many emotions running through my head that I didn't know what to pack and what to leave.
The next morning a tall young guy man wearing a blue shirt and black pants came up to house front door, he knocked. My aunt sprinted to the door with excitement. Before the taxi guy could speak she yelled out "¡Si, nosortos ordemamos el taxi!" He smiled and started putting our bags into his car. Most of the bags fit but I had to carry one on my lap. The drive to the border of the United States was very long, it was like watching a boiling pot boil, and it never comes. I was starting to get impatient and wanted to get out of the car. As we got closer and closer to the boarder line I could see the land of the free, as the people from my town referred to it as.

The smell of spicy Mexican food entered my nose and soon my stomach started rumbling. We stopped at one of the Mexican food stands that they had along the streets, and got something to eat. I didn't know whether that was going to be my last Mexican meal or not. So took my time thinking it would be my last Mexican meal for a while. As we got to the check point a short stocky man with a black mustache was standing in a green booth quickly asked us for our passports and birth certificates and we gave them to him. He examined them for about two minutes he then looked at us and said, "Todo se mira bien." We went across the border. Once we got to the United States of America we stopped at the first gas station we saw. We met a good friend of my dad's, his name was Armando he was tall and skinny and his eyes were nearly open because he was tired from driving all the way from Minnesota.

Once we were all situated in his blue van he asked us if we had eaten yet and we all said "Yes." As we started driving I started to see many tall building, I was amazed by everything around me. He stopped at a hotel because we all needed sleep. It was the first time I had ever been in a hotel. It was really big. I thought it was the greatest thing in the world.

The next morning we were up before eight in the morning so that we could get home a lot faster. As we drove farther and farther the temperature kept getting lower and lower. By that time I was already starting to shiver from being so cold. When we got to Illinois it started to snow. I didn't know what it was because I had never seen snow before. It was the coolest thing I had ever seen. I quickly rolled down my window and attempted to grab the snow but it would melt. I didn't know how that could even be possible. I tried over, and over again until I finally gave up and rolled my window up, because it was really cold. I should have been more prepared for the weather but I had no idea of such thing as snow. When we got to Minnesota it was still snowing really hard. The roads were really icy and some cars were even crashing because of how bad it was.

After a very long and fun drive he finally got to my dad's house. The house was really big, and it was white. Across the street from my dad's house there was a church. We didn't really have a lot of yard but it was going to have to do. There were kids playing outside and having fun, I wanted to join then but I was scared to because I didn't speak or understand English. As we went into the house I could smell and taste my favorite meal my mom would always make me when she used to live in Mexico with us, it was spaghetti for dinner. My mom showed my older brother and I to the bedroom that we were going to be sharing. As I laid in bed that night I couldn't stop thinking about playing with snow the following morning.

Translations
"¿Ya nos vamo no?" – Shall we leave?
"Si vamonos." – Yes let's leave.
"¿Porque estás llorando!? ¿Eres una niña o que?" – why are you crying? Are you a girl or what?
"¡Si, nosortos ordemamos el taxi!" – Yes! We ordered a taxi
"Todo se mira bien." – Everything looks good.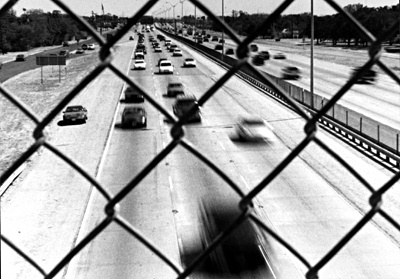 © Matt Bullock, Highland Village, TX