The Boy that I Like
April 24, 2012
One day a person invited my dad to church.We normally don't go but that day my dad made me and my sister go.So me and my sister went.We actually liked it so we kept on going.As far as I remember it past one month when I started having feelings for this boy that went to church.So me and him talked not a lot but we talked at church sometimes.We actually had a good relationship as friends.
I am a shy person not a lot but I am pretty shy.I am not really talkative or crazy.Of all the contrary my sister is always crazy and hyper.So now my sister was like the center of the attention.So now me and him didn't talked no more because my sister will call his attention.Then I found out he moved right in front of our apartments so I was really happy.But that didn't change nothing between me and him we still didn't talked.So now every time I see him I feel awkward because I like him and now we don't talk.So that pretty much sucks.
Then right next to our apartments they where building a new school so I knew me and the boy I liked were going to go to school together.So I was really nervous.So finally I got my schedule but of course I didn't ask him what where his classes because I was shy.I haded to wait till the 1st day of school.Finally the day came and my heart was beating hard.They where a lot of people from different schools.When I was in first period I was scared that I was going to have him.And sadly I did had him.It was an embarrassing moment when I saw him coming in the classroom because I didn't knew no one.And probably he was going to think I was a loser.
But when time passed I started making friends and it was funny because when I started making friends he somehow started losing friends.I actually started feeling bad for him.But that wasn't the saddest part.The saddest part was when he never talked to me in that class or in anywhere else.I actually flet worthless and ugly.But then i thought to my self he can not make me feel this way so I started ignoring him.I actually let better for my self.I knew I could get better than that.Even thou I think he likes my sister.But who cares iam just going to start out knew.I am going to act different change.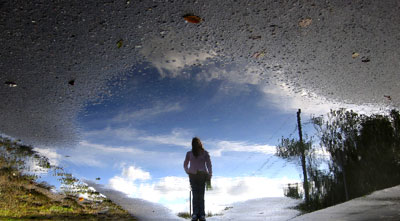 © Daniel H., Oak Bluffs, MA