A Whole New World
April 10, 2012
It took over an hour to drive up the dusty mountain that day. The heat was made bearable by the wind that blew through our tousled hair as we climbed further up the mountain. The clouds of dust engulfed us as they came flying off the back wheels of the jeep making our hair matted and grey looking. We didn't care though. We were all too excited.
We had arrived in Turkey about a week earlier. It was August and for us Brits who were used to wet summer days that barely reach twenty five degrees, it was like a suicide mission, lugging our cases through the forty degrees of heat onto a stuffy coach with no air conditioning and a baking hot lethargic atmosphere. I battled with my eye lids, willing them to stay open so that I could take in the foreign views, whilst my iPod quietly played Ke$ha's inebriated tunes that sounded out of place on the clammy, drowsy coach but this is coming from the girl who listens to Disney songs on the bus journey to school so listening to Ke$ha in this scenario was not too out of sorts.
The next few days were filled with gorgeous food, fabulous sun bathing and a ride on a jet ski, all of which I enjoyed immensely. The drive up the mountain, however, was the most anticipated activity of the holiday. We were about to go paragliding. Yes, I was about to willingly throw myself off a mountain top for recreational purposes. My reassurance was that my mum was going to do the exact same thing, as was my younger brother and neither of them were too keen at thrill seeking. I stepped forwards and the instructor helped me into the harness. We were standing on a slope and my heart was beating fast inside my chest as I looked down to the ground. We were high up. I looked out over the vast expanse of mountain; out to the sapphire sea and up to the shimmering sky.
I remember vividly the moment when the man strapping me in slid down the slope just a little bit. I nearly screamed as he pulled me with him but, as a professional, he kept his balance. I looked down again as the stones rolled down the mountain edge where the man had just slipped and thanked the God whom I was not even sure existed that that had not been us. Then he strapped himself in behind me. I was the first of my family to make the drop but others on the same excursion had gone before me. The majority of them had let out a small squeal as they floated off of the mountain edge but after that, the journey looked fairly even. I braced myself, he ran forwards and then we were off. We plummeted at first and then just floated, as smoothly as a bird; soaring high above the ground. We elegantly twirled around over the mountainous terrain.
The vast expanse of mountain became like a whole new place from that angle. The mountain was no longer just a big dusty mound that had given me horrible matted hair but it was part of a group of natural forms that were so astoundingly beautiful that I had to catch my breath. I now understood why some people raved about natural phenomena. It was so picturesque and out of this world, only it was very much in this world and naturally so, it was just something that I had never experienced before.
We glided over the sea and started to spin; faster, faster, faster. It was so thrilling and at times I could not tell the difference between the shimmering sea and the cloudless sky. They were both a brilliant necklace of sapphire blue.
We soared above the hotel and I could see little dots going about their relaxing holiday regimes; looking up at us in awe, the way that we had done just days before. I had pondered over what it would be like to be the ones looking down but it would be impossible to imagine how it really was before having ever done something like that before.
We came back down to the ground and I just wished to be back up there again. Back into the sky where birds gracefully spend their time but where we usually only ever inhabit on an aircraft. It is where we constantly dream of being. The sky is the place where dreams are supposed to come true; in the stars and next to the burning sun. It is impossible to do everything in life but we should make the most of the world around us and seize the day. Carpe diem.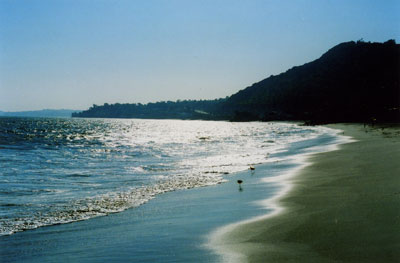 © Adam L., Washington, DC