My First Book.
March 28, 2012
For most people the toys they like or remember the most from when they were young are usually dolls, action figures, cars, or a stuffed animal. For me it's a Harry Potter book. I love reading. I could read all day, but I didn't always like to read, I even had trouble with it. Harry Potter changed me.

About six years ago, when I was eleven, my dad took me to a Barnes and Noble book store. Back then it looked menacing because I didn't like being surrounded by books. My dad insisted I take a book home to read and since I couldn't think of a book in the world I would like to read, he picked it out for me. He handed me a book called, Harry Potter and the Sorcerers Stone. I can remember what I thought when I first held that book, "What the hay? I already watched the movie, what's the point of reading the book?" But my dad told me that if I was anything like him, I would come to like it.

I decided to start reading it before mom picked me up from his apartment to humor him. I would then throw it away when I got home, but when I got done with the first chapter, I was hooked, I just couldn't stop reading the book. Mom was astonished with how much time I spent reading Harry Potter. She would look at me as if she was watching our dog give birth to a cat! When I finished the book, I went right up to her and asked when we could get the second book. She laughed and asked if I was serious. I told her that I couldn't stop now, not before Harry could defeat Voldemort.

So that's how I got started on my reading frenzy. I'm thankful that my dad made me read that book, even though I was stubborn about it at first. All I needed to help me read better was a book I liked, and now I read every chance I get and it has even helped me in other school subjects. Even though I've indulged myself in many books, some that I like more than the Harry Potter series, I will always remember Harry Potter as the one that got me started.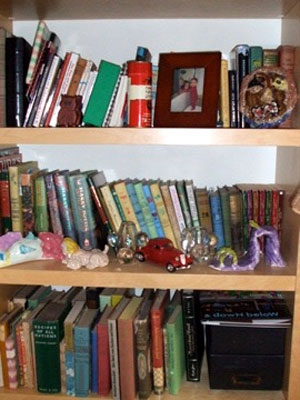 © Nina M., San Francisco, CA