Think First
March 26, 2012
Ever heard of a mental hospital? Do you think everyone there is crazy? Well, I'm not crazy, just in a painful reality. I swear I'm sane. My mind is just a very dark place. Eight times so far, eight hospitalizations, and always for the same reasons. Depression, Self-Harm, Suicide thoughts and plans, anxiety, and who knows what else. These things are real, please open your eyes. I'm not crazy, it's just very dark in my mind.
These things are real, so think twice before you say something to someone. I have been told to kill myself multiple times, and I have attempted a few times too. Words cut deeper than razors, trust me on that one. Cuts eventually heal, even if they become scars they heal. Words don't leave! I can hear every bad thing someone has said to me, all the words against me, yet the good things escape my mind. If people know more that depression is real, Think Before You Speak.
Depression is more than an emotion. Every day I suffer from these feelings, these thoughts that attack me. I can't escape it and it has hurt me and my family. People often don't realize the emotional pain can result in physical pain, and I don't just mean self-harm, I mean from the emotion. That ache in your stomach the sting on my arms. These things are real, please believe me and please help show that Depression is real and Self-harm is something many suffer from. Help spread the word and stop bullying. Thank you.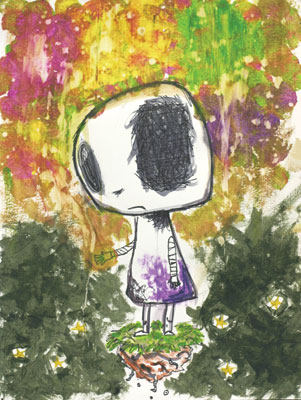 © Ashley W., Port Charlotte, FL