Pure Serenity
March 19, 2012
I had been nervous the entire week, ever since I asked him. Was everything going to turn out right? Was he going to regret saying yes? Was I going to regret asking him? Every possible and impossible scenario popped in my head of what could go wrong. But when I woke up on that memorable Friday, all of my worries had miraculously disappeared!

I peered into the glass door, I saw him climb the front steps and start opening the door. I hurried to the entrance and let him in. He immediately mentioned his tie and how it didn't exactly match my dress, but it didn't matter. He was finally here and he was all mine for the night.

We all gathered around my living room in a U-shaped formation. Each of the boys stood behind his date and put his hands on her waist. Everyone became quiet and smiled for pictures. Suddenly, someone asked if anyone else heard the Christmas music playing the background, which had not been picked up because of all the talking before this moment. We all laughed, but I made sure I did not move too much from my original pose.

My best friend requested a picture of us with our dates. The four of us lined up and he put his arm around me. I could feel his hand gently brush my shoulder and then land around my waist, as if he was saying, 'she's all mine, and no one else's'.

The first slow song of the night came on and he immediately looked up and pulled me close to him. At first, I didn't know where to put my hands, but eventually, they just naturally fell, locked on the back of his neck. He pulled back and looked into my eyes, smiling and uttered the words: "I'm really glad you asked me to prom." 14 weeks later, I still remember the exact words he said to me at this moment. I shyly, half smiled and quietly replied, "I'm really glad you said yes." Today, I shake my head when I think back to this very moment. So many other responses come to me now that exceed that one. Maybe it was the nerves because of the fact that I was dancing with the guy that I had fallen head over heals for, that made me reply with such an unintelligent response.

We continued dancing and he pulled me closer. I had never felt so many emotions at once until this very moment. Excitement, happiness, nervousness, and apprehensiveness all hit me like a ton of bricks. But thinking back, I only wish to return to that very moment, where it was just he and I, and everyone else just felt like a complete blur.

The spaces in between each set of slow songs seemed to drag on, but as the DJ played each, he looked up, caught my eye, and made his way toward me. Every time, like clockwork.

The time we spent together that night was like no other. Whenever he grabbed my hand and pulled me close, I felt a brand new emotion that I had never experienced before. It was one of comfort, security, and wellbeing. As if we belonged in that very moment, together, for the rest of our lives.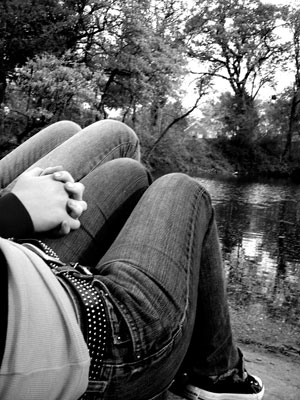 © Lauren R., Edmond, OK