My Father's Love
March 19, 2012
When I was five years old I would visit my dad every weekend, never missing any of the few special moments I had with him. I would always pretend on those weekends that my dad, mom and I were the perfect family, hiding a terrible secret underneath. I was five, young, pure and innocent I didn't know what a cruel world I was facing out there, but it didn't take an expert on the world to know that what my dad was doing to my mom was horrible. Looking back I don't know why my mom kept visiting him every weekend since he abused her at any moment of day for any given reason. Maybe she did it for me, so I wouldn't have to go through life never knowing the love of a father.
But I guess my mother had had enough of all the mistreatment and beatings she got from my dad because she finally stopped visiting him. I thought it was my fault, that I had done something wrong that made my parents stop loving each other. He stilled called me every day though. He would always tell me that he loved me and couldn't wait to see me again and then he would tell me to pass the phone to my mother. And she would tell me to get out of the room and play somewhere else, but I could still hear all the arguing and shouting going on across the hall.
My mother also cut all phone contact with my father. She told me that whenever he called me, he would also pick up a fight with her, so there was no point in him always calling us. I remember the last phone conversation I had with my dad. He said, "Hi, hey you know this is the last time I'm going to call you but I just wanted to tell you that I love, please pick up. Ok bye. I love you."
I didn't pick up the phone. I don't know why I didn't. I could feel the urgency, the sadness in his voice, yet I didn't pick up. And so like that I lost my father, I let him slip though my fingers' like grains of sand. I have not looked at his face, listened or heard my father's voice in over ten years. It's been ten years until recently. When I looked him up on Facebook, stared at his photo for a long time and found out he's married with a child on the way.
I really hope my father the best of luck although, I'm jealous of that child, it gets the love of my father, something I can never or will have. If he had loved then he would have gone looking for me, called me just to say he loved me, not because he wanted a reason to talk to my mom.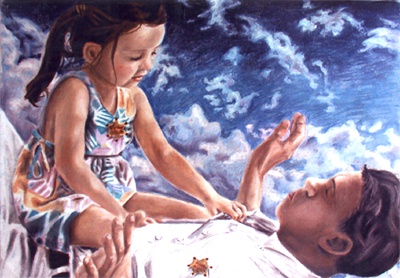 © Meg S., Andover, MA