Hugs Are Sweet
February 21, 2012
"Leah-h-h-h!" he sang, arms outstretched.

The skinny boy stepped closer, getting taller and taller as he did so. Blue eyes were opened wide, displaying a joyful playfulness. The long arms wrapped around me as he finally approached. His soft jacket concealed my face and I felt his brown hair tickle my right cheek. Automatically I had hugged him back. Breaking apart, he turned around and ran down the pale hallway.

"…Bye…" I mumbled, unsure if the word was heard or not.

He left me confused, but also with a smile. A loving moment, I could not conceal my happiness for the rest of the day. All it took was a hug to kill my sad mood bubbles and replace them with glee.

Later that day, the earlier event replayed itself. The same name being cried out, the same running towards me, and a big hug. This time I patted him on the back as he held me tightly. The hug ended differently, with the two of us walking down the hall, making very little conversation to none.

Awkward.


At the end of the school day, the buzz of the crowds of people rang inside my ears as I came closer to my friend. Her back was to the rest of the school, facing into her messy locker. She acknowledged my presence with a loud, "Hi!" We talked about whatever came to mind, which this time was a French-speaking saxophone player in her band class. As she zipped up her backpack, I felt someone come up behind me, giving me a hug.

"Oh, hey," I greeted, though I could not see his face.

My friend shut her locker and winked at me, smiling with slyness. In response I rolled my eyes.
The boy left and I took a deep breath of fresh air, him having practically choked me several seconds before.
"Aw," she commented.

"Aw," I echoed. "His hugs always brighten up my day. They really are so sweet."

"Well," said my friend, "Everyone needs a little cheering up. I know I do, with my life."

"Ha, please, don't be such a drama queen," I replied.

The two of us separated with a friendly hug: a small gesture that could make anyone feel better after a long, restless day.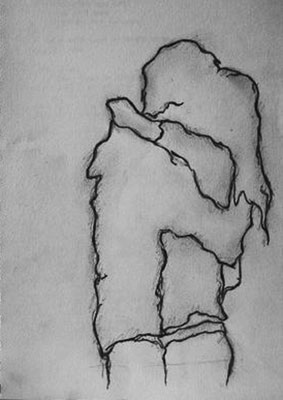 © Nicole B., Newcastle, WA