My Glory Moment
February 17, 2012
My mind was filled with immense overflowing darkness. It felt like a tremendously heavy weight was pounding down on my shoulders, as I waited to begin my very first performance. People backstage appeared to be judging every little thing about me, while the long shadowy curtains seemed like they were there to strangle my soul. As I walked among the other pianists, I could hear the funnel cloud of emotions whipping erratically throughout the room that was filled with unbelievable anxiety. All of the sudden, the nasty smell of sweat overwhelmed me, and I started to feel threatened by the pressure of my surroundings. As I listened to other talented performances, my memory was clouded with stress, and the music notes that I had finally memorized started to frantically fade away.
In an attempt to ease my mixed and confused emotional state, I decided to pop a hand full of mints into my mouth, and I felt the gritty texture slide down my throat. The taste of the mints was like a strong wind blowing into my system, and instead of soothing my fears. I now felt chilled to the bone.
They called my name; I began to walk timidly towards the gigantic black piano. All at once I got the dizzy sensation, as if I've been spun around quickly and managed to open my eyes, and the room was swaying and blurring in the crimson light. All I was aware of was my heart beating in my chest, my ribcage moving up and down, and a strong buzzing in my ears. All my fears were running up through my toes to my tip of my fingertips. I could barely see anything in the elegant auditorium, because the colossal lights were shining brightly upon me from every direction. In my form fitting and tight lavender dress, I even struggle to set myself in place.
I started to perform. Unexpectedly, my former fear slowly vanished and feelings of anger strangely arose. While my fingers danced angrily along with the silence of the room, my heart beat and the beat of the music intertwined. Being slightly annoyed with the sweat of my fingertips, my weak sinking heart seemed to fear the velvet stillness of the atmosphere, and a scorching heat emerged, as if the place was on fire.
A sense of satisfactory tapped me as I bowed to the loud audience. It was finally over.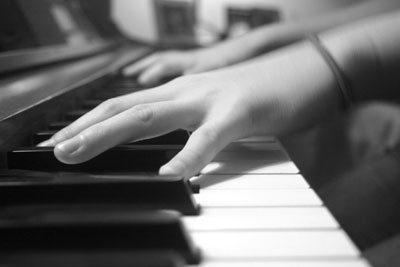 © Elizabeth S., Newton, MA