Finding Summer
February 8, 2012
When I was a little girl, I lived in a world without restrictions. There were no unreachable expectations, no stream of endless drama, and boys were a major no-no due to chronic cooties. As a child, I was allowed to be the purest form of myself. I ran wild with tanned skin and sun streaked hair, shoes conveniently forgotten on the porch. I read books and rode horses and spent time with my family and sang at the top of my lungs; insecurities were nowhere to be found. My childhood was a perpetual summer. For years it was summer; everything carefree and warm and genuinely happy.

Everything changed when I was old enough to comprehend the things that had happened, the things that were happening. I figured out that my childhood was far from perfect, no matter how hard I willed it to be. I wanted so desperately for my parents to come home so we could be a family and fix everything that had been broken. But they didn't, and things in my household were beyond repair, and I accepted that isolation because I felt I had no choice. The burdens that came with these thoughts weighed on my petite frame until I shrunk down into the shell of myself. I watched as the world passed me by, my classmates seemed to be stuck in a never-ending happy mood while I sat feeling ridiculously self aware. And I got so good at pretending, at acting like everything in my life was as perfect as I'd have liked it to be, that I should have gotten a Grammy nomination every damn year.

Along with the ghosts of my past, I was haunted by society's expectations. I wasn't skinny enough, smart enough, athletic enough, talented enough. I wasn't enough. I tried so damn hard to be perfect that I completely lost myself in the process. As I grew up, all of it got worse. I started hurting myself in attempts to deal with everything. I would hang out with guys that were not from the storybooks. I was expected to be perfect, and I pushed myself to the breaking point in order to achieve that goal. But I have realized that I can never be perfect. I can never be flawless. I can never live up to the expectations of others. But I can live up to my own. I don't want to be isolated anymore. I don't want to keep shutting people out, or be shut out in return. Leaving the perfect shell I've created is the hardest thing in the world to do. Pretending is so much easier. But I'm dragging myself out, with help from the people who have taken the time to find something in me worth seeing.

I'm not the little girl who believed in fairy tales and was completely at ease with herself. But I'm trying to find that genuine happiness again, the ridiculous smiling-from-cheek-to-cheek kind of happy. Somewhere underneath the scars that scream of cuts from the razor, underneath the shell that is beginning to crack, underneath the doubts and insecurities; I am waiting. The little golden-haired child is running barefoot, singing at the top of her lungs, chasing the sun that lights up her perpetual summer.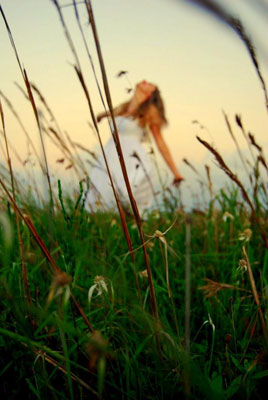 © Richard F., League City, TX