First Love- does it ever fade?
January 27, 2012
Does your first love always hold a place in your heart? I'm not talking about a kindergarten crush or the cute boy in your math class who you drew hearts with your initials inside them on your notebook. I'm talking about your real first love. The one who made every day exciting or who knew exactly what to say when you were upset or the one who made you blast happy Taylor Swift songs cuz' you were just so indescribably happy.

The first time I fell in love I was fifteen. It was freshmen year. Freshmen year is exciting for a lot of different reasons… new friends, more clubs, more freedom and obviously a few steps closer to going to college. But another excitement in high school is all the cute boys. Junior boys, senior boys! These weren't the smelly lame boys you saw in middle school. I dated a couple of guys my freshmen year. It was exciting but none of them lasted long. But once February rolled around I realized I didn't have a boyfriend. My best friends were all going to have someone to spend Valentine's Day with and I didn't. So my best friend, at the time, told me her boyfriend was good friends with a pretty cool senior guy. I felt lame for having to have my best friend find me a date for valentines but she forced me to go. She said it would be "unacceptable" for me to sit alone on Valentines watching valentine movies on ABC Family.

We double dated and went to see that corny chick-flick "Dear John". I hadn't met this guy before just a few exchanges on Facebook. I didn't have high expectations for the date but figured at least I wouldn't be alone on Valentines. But oddly enough, he ended up being my first love… From that first date he had made me laugh the way no other guy had before. He was funny, witty and friendly. He didn't spend the entire date talking about himself but he was still confident and very cute. He was just a really cool laid back guy and by the end of the date I couldn't stop smiling or thinking about him.

By the second date I knew he was something special. I knew I hadn't felt this way about anyone before or felt this type of chemistry with anyone. It was all so new to me. So a month later we ended up dating officially. For months everything was perfect. He was perfect. My family loved him and he always knew what to say and do to make me happy. With him I genuinely knew what it was like to be happy. Every day at 2:15 after school he would wait for me in front of the school building. Which was the highlight of my school day; when he saw me his eyes lit up and a huge smiled appear on his face it was nice to know he felt exactly the same about me. School ended up and summer came and he told me he loved me. No doubt I loved him too. But as the months passed things started to change we started to fight a lot he didn't greet me with a long kiss anymore and his eyes weren't lighting up anymore when he saw me. Every day was a fight about something. Eventually we broke up.

They say falling in love for the first time is intense, but your first break up is even more intense. I cried for days and it took what felt like ages to get over him. None of my friends understood, they would date a guy for a couple of months then break up and find someone else a few weeks later. But I couldn't do it. No one made me feel the way he did. Eventually I gave up talking to my friends about it and just mourned listening to Adele's 21 and Taylor Swift's Speak Now. The heart-ache was indescribable. As a few months passed he eventually moved on and found a girl he was crazy about.

Eventually I moved on too. It took a long time but now I'm with a guy who I really like and makes me happy and I connect with so well. I live in a small town so I still see him. Sometimes my heart still stings when I see him or see something he's written on Facebook. And it makes me wonder if you ever really get over your first love? The happy memories of you two ever fade from your mind? It's been a year since we broke up and sometimes I still think about the fun memories we had together, like prom or the prank he pulled at Starbucks on our second date that made me realize I was crazy about him, and I smile. I wonder if he ever thinks about those times too… I wonder if when he sees me does his heart sting just a little.

Do you think you ever get over your first love? Do you still love your first love?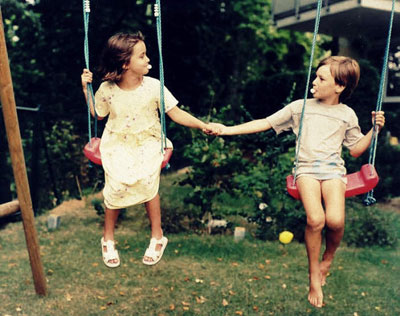 © Lauren K., North Kingstown, RI