Open Arms
January 26, 2012
I sat down on the prickly grass, partially dead, and pushed a piece of brown hair out of my face. The sun was like a curtain closing down over the horizon, ending the show. The day was beginning to die, but the colors still danced around in the sky, never wanting to truly leave. A few trees surrounded me, becoming yellow. They served as a home for fluttering birds and bugs buzzing like  train whistles. The smell of fresh air tapped my nose, urging me to take a big, deep breathe. The dirt road beside me, brown and dusty, gave me company. It sat there contently, just like it always has, as long as I can remember. My eyes lingered to a couple cows in the distance, grazing on bare grass. They had meandered away from their family members, who were all lying by a large oak tree, a herd of black in a sea of green.

The urge to walk tugged on my legs. I stood up, leaving my comfortable position behind. Barefoot, I walked down the dirt road, dodging large rocks that could potentially hurt my feet, which were dirty and dusty. I'm unshaken by the prickly gravel now, because of the years of slapping against the road. The warm air wrapped around me like a fuzzy sweater. Even with the sun setting, the temperature hadn't cooled much. It stayed soothingly warm, a never ending blanket. I passed taller grass, serving as hiding places for creeping country animals. Creaking metal filled my ears, reminding me I was home. The oil wells, rusty and aged, reminded me of see-saws that had no limits. Touching the sky was always easy for them.

Having the road come to an end, I made my way back to my cozy house, white, worn-in, and old. It's green metal roof promised to never fall in, it's white-rimmed windows swore never to crack, and the paint-peeling walls vowed to always protect me. Surrounded by trees, it stayed at the top of the low hill, inviting me to come to it's warmth and happiness. A smile trickled up my face as I realized there was no other place I'd rather be. I walked to the open arms that would always be spread out for me.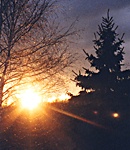 © Christy S., Germantown, NY