Grampa
February 14, 2012
The dust whirled in the as we started the third inning. We were playing the bulldogs; the WORST softball team in our conference. We were winning 10-1. I was up to bat.

Five weeks ago my grandfather, other wise known as 'Grampa,' was diagnosed with cancer. It was cancer of the throat. It was common and 85% survived. The thought of loosing him never crossed my mind, or anyone else's for that matter. No matter what the circumstances, I decided to play this season of softball with him on my mind. I wanted to make him proud of me. I wanted to give him something that he would remember from this summer.

As I await the pitch, the wind dies down. It's perfect now. The pitcher winds up and releases. "Ball 1," screams the umpire. I step out and look at my coach. He gives me the bunt sign. This is my specialty. I love to bunt. Excited, I step back into the box. The pitcher winds again. "Ball 2," screams the umpire. I step out to look at my coach again. No sign this time. "Alright, swing away," I think, "this is my pitch. I've got this. You can do it. This is what you have been waiting for all season. This will be the hit that I go home and tell Grampa about. He is going to be so proud of me." I step in the box. This pitch is released. I see it coming. Any wrong move could ruin the whole pitch. I wait for the right time to swing. This one second feel like minutes, waisting away. I swing as hard as I can. I had perfect form this time. I look up to see the ball flying through the air over center field. I drop my bat and run as hard as I can. My first base coach is telling me to go. I touch first and sprint to second. My third base coach tells me to keep coming. I past third and he is screaming, "GO, GO, GO!!" I reach home plate and slide in. I look up to see the whole team rushing out of the dugout to congratulate me. I just got my first home-run! I can't wait to go home and show Grampa my home-run ball! He is going to be so excited.

We went on to win the game 17-1. The bus ride home seemed to take days. I was bored so about half way home I decided to call my mom and tell her the good news. She said she had been called to the hospital. Grampa was going to have to stay overnight but they said there is nothing to worry about. There was one test that didn't come back as planned. She told me she loved me and she would see me when I got home. I never got to tell her about the home-run ball I had hit.

We finally arrived home and I went to my aunts house to show her my ball. We were both so happy. All of a sudden my phone starts ringing. For some reason my heart sank and I could feel that something was wrong. I answered. My whole body shaking. It was my dad. He said, "He's gone."

I couldn't believe that this was happening. The next few days are a haze. There were many people coming down to my grandma's offering their sorrows. The kitchen was filled with food from friends around the town. This was good for our large family. We sat in the living room. Some of Grampa's closest friends; all sharing their thoughts and past times of him. Love and tears filled the room.

There were now 10 grandchildren without a grandfather, 4 spouses without a father-in-law, 4 children without a father, and 1 wife without a husband. These words crossed my mind a thousand times during these few days.

My Grandma had asked me to speak at the funeral. I wrote a speech and planned to read The 23rd Psalm as I had for every family funeral since I was 7. While writing the speech I suddenly remember my home-run ball that I had hit for Grampa. Somewhere in the fog of the last week, I had forgotten all about it. I decided to place the ball with my Grampa in his casket. There was no thought to it. Everyone asked me why I was doing it. Most people would keep their first home-run ball as a trophy. I would say, "I did it for him. There is no reason he can't have what is his." They would nod their head and walk away, contemplating the idea. And that was that.

The visitation was huge. I had to miss a game for it. The line to get in was over 2 hours long. We had the visitation time scheduled for 6:30-8:30. People showed up at 5:30 and didn't leave until almost 10:30. There had been over 1,000 people at his visitation. We decided to move the funeral to the church down the street that could hold more people.

I stood up on the stage, in front of over 600 faces. Faces that I didn't know. Faces who shared so many great memories with my grandfather. It was obvious how well-respected he was. I read the verse and my speech. Everyone was in tears by the time I was done. I talked about Grampa's love for racing, his love for people, all of his strange animals that he kept around the house, the special moments he shared with his grandkids, how much he cared for his family and friends, and many more memories. After the funeral, everyone told me how good I did. But I didn't want to hear that, I didn't want them to tell me those things. All I wanted was for everyone to see the lesson he was teaching. I wanted people to learn from him. But most of all, I wanted him to come back.

I spent the majority of the next few weeks at my Grandma's. Keeping her company and helping out with the 10 acres of land; doing odd jobs that Grampa would have done. It was really hard on all of us; especially my Grandma. It never felt like he left. It just feels as if he was on a trip. I would catch myself thinking about what we were going to do when Grampa got home. Then I would remember and tears would fill my eyes.

Its been almost 2 years since that day. I'm still waiting for my cell phone to ring and say Grampa on the screen. Even though he is gone, Grampa is still teaching me lessons. The most important thing that I learned was not to take time for granted. Don't assume that all of your friends and family members are always going to be there, because one day, things may not go as planned.

I still play softball. I talked to my coach and our school now has one game a season where all the money we raise goes to cancer research. It still hurts to have him gone, I think it always will, but we get through it, one day at a time. I hope that everyone who knew my grandfather can see what I see. He changed my life.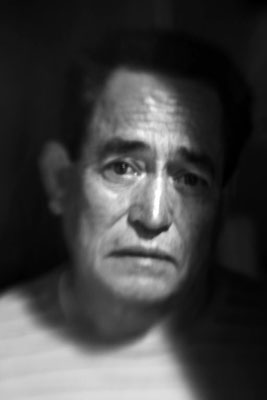 © Adam P., Goleta, CA