A "Grown Up"
February 10, 2012
My bedroom was in a mess. Mom was in the bathroom doing her make up and luckily couldn't see how I threw all my shirts, pants and skirts all over the room, trying to wear something that would match to my red lipstick. I wasn't professional in doing such things so I colored red almost half of my face and teeth, but when I watched mom doing that, It gave me a feeling of hope that I'd become as beautiful as she was. After looking for a while and having nothing to wear, I opened mom's closet for the first time of my life. Closet! The most mysterious place in our house. Mom always told me not to open it, she said there's very dark and big monkeys living in there, who kept many treasures. For a 4 year-old child it was really scary and I even didn't come up to it and touch the door. The sound of that door, how it opened and closed with a great noise..."What was in there?" I asked myself again and again. I couldn't just stay and do nothing when I was sure there was something amazing to see. Finally I opened the door. I did it at last.
"Wow, mom was right, it's really dark here." I thought, but I couldn't see the monkeys and just then I thought, "maybe it's because it was dark..."
I put my hands in front of my body and tried to touch something, and I felt something soft and red. Yes! It was surely red, because red is only that color could have that softness.
"Hey bad girl! What are you doing in here?" Mom appeared from nowhere and stood behind me.When I turned over and saw her beautiful colored eyes and red lipstick I got embarrassed, because I knew how that lipstick tasted when I shouldn't have known at my age.
"Mom, where are monkeys?" I asked innocently trying to change the subject.
"They left because you just opened the door." She replied, smiling.
"Mom, I found the treasures, I found the treasures!" I shouted and clapped to myself."Look how many necklaces, rings, and earrings they kept from us!" I continued.
" Yes...you know they promised me to give all the treasures to you when you grow up and be a kind, good girl." Mom said softly ,hugging me and cleaning my face with a tissue with a smell of mint.
She always bought it, she said when you're sick and your nose is stuck inside it helped to open it when you breathe the that smell.
"Now you're more beautiful than with any make up,"mom said holding my hands tightly.
"But I want to be like you!" I said wondering that she exactly looked like my barbie. the only difference was that barbie had blond hair and my mom-black and the barbie had only one hand instead of two just because I broke one of them.
"That time will come soon honey, now are we going to visit grandma or not? She's waiting for us and will worry if we're late." She said starting to wear my shoes.
After few minutes we left home and I was still wondering whether monkeys came back and maintain my future treasures...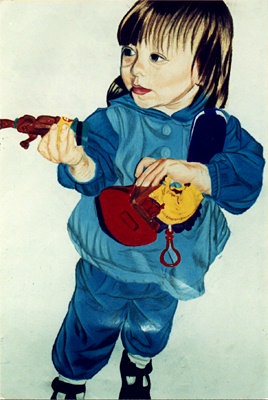 © Donna O., Kannapolis, NC