True Love that Fell Behind
January 28, 2012
I sat myself next to Hannah on the grassy bank of the lake. The feel of the grass against our skin was irritating as it brushed against the backs of our ankles. When the warmth of humidity swept over us, so did the mosquitos. We squirmed our feet around in the dirt and leaned back to get comfortable.
The sun was sinking down over the murky water very slowly; the orange sky slowly degrading to a navy blue. I watched as the sky transformed to a dark solid color. However, it wasn't quite dark. The moon was very luminescent over the lake.
Hannah and I glanced around at everyone. The light of the moon made their faces glow. I noticed a group of boys that were generally around the same age as us doping around to the left. A few of them complained about how there were too many bugs. The others stood quietly waiting.
Suddenly, an explosion of colors erupted in the sky, taking everyone by surprise. The pop was so loud; a few younger children yelped and giggled. I think I saw you smile.
I thought about how everything looked so perfectly right then as more colors exploded in the sky. Your mouth hung open, either in amazement or pure exhaustion.
Suddenly, I caught your eye. Your light brown curly hair flopped around in the dark. I looked at you again. You had a dark colored shirt on, and Nike high-top sneakers. Your beautiful light green eyes were everything I could ever want.
I thought about you all night when I went to sleep in the cabin. I thought about how summer camp was never this exciting before.
When I woke up in the morning, our cabin made our way steadily down to the breakfast hall. I scanned your table carefully. It was weird; I couldn't seem to find that boy with the perfect curly hair and eyes. Instead, I saw a boy with messy curls and sleepy eyes lopping around in the breakfast hall. You were wearing orange that morning, and you had gym shorts on that didn't match at all. I gazed around you, trying to see if there was another curly hair boy, but there never was.
You seemed to fall for me during activities that week. I was hoping you would ask me to the dance at the end, but you never did. But I will wait for you, because you are the only one I want.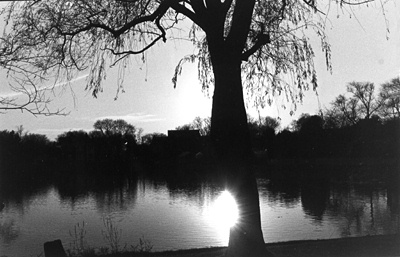 © Chuck K., Marblehead, MA