Tears.
January 18, 2012
Take a minute and picture the strongest person you know. Think of the person in your life that, no matter what, is always strong and never cries. They never show their weakness. They never let anything overcome them. They're like their own superhero, winding their way through life one brave step at a time.

Now picture that person again with tears making small paths down their face. Something finally broke them. Something finally got into their heart and their mind and their soul and brought them to tears.

Can you do it? Can you picture them?

I never could. I could never have pictured my dad, the one person I had known to be the strongest person in the world, crying. But I didn't have to picture it. I watched it.

I whisked through the first fourteen years of my life without thinking that my dad was even capable of letting any liquid out of his eyes. Maybe he hid it from me to protect me, or maybe he really just didn't cry. I didn't even see him cry when my brother was in his car accident, when he was supposed to be paralyzed. I never would have thought that Dad could.

But being in the hospital for four months has to be traumatic, though I wouldn't know myself and I don't plan to. Is it possible for anyone to keep from letting the tears fall after that amount of time?

The first time he cried in front of me was at around one o'clock in the morning. He was having bad anxiety after his first liver transplant and his dreams were horrible. He would wake up crying. And that night, or morning I suppose, when my mother and I finally got to bed, I cried, too.

And when the doctors told him he needed yet another transplant just over two months later, I'm sure he cried. I can only imagine, though I wasn't there. And after I found out I pictured him being told and it was unbearable.

But he was three hours away from home in a hospital and school was starting. I couldn't miss school, so while my parents stayed at the hospital my grandma watched me and I traveled down and back every weekend. Every Sunday I would wake up feeling sick to my stomach. Not only did I not want to go home, I didn't want to leave because I knew there would be tears from both sides.

And there were. Every week. He would cry as I walked out the door and I would continue to cry for at least an hour, sometimes three. I counted the days until Friday, when I could back, and tried to stop the days from progressing towards Sunday.

It was life changing, really. No one can keep their emotions completely under control. I wish people knew that. The people who are the strongest are usually the ones breaking apart inside. That's what's happening to me, but no one knows it. Don't ever assume that someone doesn't need a hug and "It'll be okay."

Please. Let someone know you care.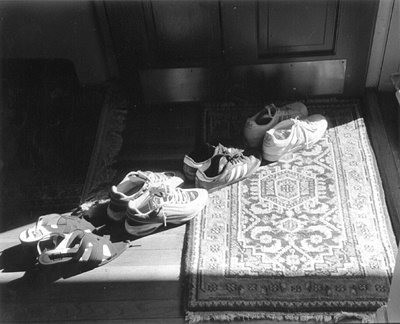 © Caite P., Marblehead, MA