Baby Baby Baby … No
MAG
January 19, 2012
It's not easy to live with my sister. She's very inconsiderate. Often when her friend sleeps over, I can still hear them giggling at 2:30. Loudly. They giggle loudly. She is also very critical. Rarely a week goes by when she doesn't make some snippy remark about my appearance.

"You really need to wear eyeliner," she drones as she scans my face, my eyes rimmed with only my eyelashes, God forbid.

"You need to learn to shut up," she snaps as she listens to me excitedly tell our mom a story. "You're not interesting."

It's hard to live with her constantly slamming doors so hard their frames shake and stomping down the hallway so loudly that you can hear the booming even though it's carpeted. Yes, it's hard to live with ­Gracie, but it's even harder to live with Gracie and Justin Bieber.

Last year, Gracie got an offer to be on a reality TV show called "Obsessed," about people who are overwhelmingly infatuated with certain people or habits. She ended up turning down the offer because she would have to submit to therapy, but at first she was elated. She dashed through the house screaming, "If I'm on TV then Justin will see me, and he will know how much I love him! He'll finally know!"

The producer of the show found her through her YouTube channel, which is strictly dedicated to all things Justin. On the channel you will find stopmotions, videos she and her stupid belieber friends deprived themselves of sleep to make, and her entries to the million and one contests Justin's many affiliates hold each month. The background of the channel is splashed with a color between violet and royal purple, which Gracie affectionately refers to as "Bieber purple."

Her bedroom walls are also Bieber purple, though you would never know since they're completely covered by posters. Every inch is Justin Bieber smiling up at you angelically, Justin Bieber in a tree, Justin Bieber strolling on the beach with Selena Gomez, Justin Bieber with a pug, and so on. Her bookshelf is lined with every magazine his face has ever been plastered on, in addition to his memoir, First Step 2 Forever. Two Barbie dolls modeled after him also reside there: one in a green hoodie with a guitar slung around his shoulder to give him that boy-next-door look, and the other in a black leather jacket holding a radio that sings "Baby" when you press a button. Both have a brown swoosh of hair sculpted on their heads – Bieber's signature – although he doesn't even wear it that style anymore.

All of her "My World" CDs are displayed proudly on a shelf above her bed, along with a cracked orange camera that Justin's manager, Scooter, signed for her at a concert. Next to her bed rests a photo of her and the Biebs himself. I'm assuming the day that photo was taken was the best day of her life because she cried (yes, she was one of those girls) when she walked in the room and he held her hand to comfort her.

My least favorite feature of her bedroom, however, is the two Bieber bodyguards that tower in front of her windows. The cardboard cutouts are the first thing your eyes fall on when you enter the room. (They're supposed to be life-size but they're both at least six feet tall, and we all know that Bieber is nowhere near that height.)

Because of her obsession, when my parents chose Canada as our vacation spot last summer, it was inevitable that we would stop in Stratford, Justin's hometown. The city of Stratford is about eight blocks. That's it. It's a quaint little town, with trees lining the streets and Shakespeare references in every shop window. The buildings are old and majestic, resting upon well-manicured lawns littered with friendly residents, most of whom knew Justin personally. The town is that small.

Gracie, of course, printed a map of all Justin's favorite spots, and we begrudgingly had to follow her to every one of them. The list included Scoops, an ice cream shop located in the middle of nowhere, Rosie's, a run-down diner at the edge of town, and a secluded middle school surrounded by towering maple trees and aging playground equipment. As they were all places Justin had once been, Grace loved them blindly.

One of my best memories of being in Stratford was walking down the sidewalk and seeing a beat-up blue jeep parked in front of a meter. A boy of about 16 with shaggy blonde hair was sitting in the front seat. He was cute, sure, but not worth stopping and staring at. Gracie, however, did just that. "What are you doing?" I spun around, annoyed that she was making me wait for her.

When I saw that she was fixated on the jeep I hissed, "He's not even that cute! Let's go." But she just shook her head.

Then she whispered fiercely in my ear, "That's Justin's friend! I've seen him in pictures before! Oh my God!" She then looked at me expectantly as if I was her mother and I should ask him if he wanted to play with her. Instead I briskly walked away with her clinging to the back of my shirt, still staring back wide-eyed.

This was not the last time we saw one of Justin's friends. Grace made sure of that. She made my father drive back and forth in front of Justin's best friend Chaz's house until his bushy hair could be seen on the front porch. The entire time we were stalking him my stomach was in knots, positive that the police were going to appear and arrest us.

The good thing is that at the end of the trip, Grace was satisfied. There was no more need for her to wonder aloud about every detail of his hometown. But I guess for Gracie, it's just not possible to get enough Bieber. The entire drive to Toronto, Justin was screaming, "And I was like, baby, baby, baby, ohhhh. Like baby, baby, baby, noooo. Like baby, baby, baby, ohhhhh! I thought you'd always be mine, mine. Yeah yeah yeah. Yeah yeah yeah. Yeah yeah yeah. Yeah yeah yeah. Yeah yeah yeah. Now I'm all gone, gone, gone. I'm gone."

But I really don't think he'll ever be gone. Because she loves him. And his world is her world.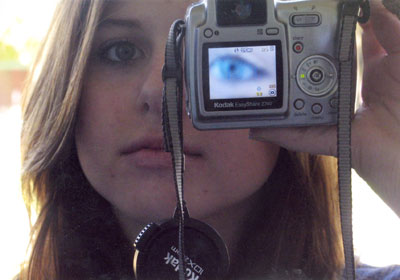 © Jessica M., Phoenix, AZ