My Lily
January 12, 2012
A lily is not only a flower that represents devotion and freedom, it's also a girl that has taken those two meanings and has simbered them inside her heart and soul. It's amazing to know that only one person can see our future and the path He has for us. Even before we are born He knew the trials and tribulations we would face and giving us the will to turn to him when they come.

I stood on the sidelines watching a girl that didn't know she was so beautiful inside and the outside because she was too insecure to think she was worthwhile in this world, my sister named Lily.
I imagine her pillow filled with tears and secrets that no one knew because she never let people see the best of her. Lily wanted freedom, a way out of this world, she wanted to become a singer to let her music speak for herself, to make songs that would soothe the hurt and give people comfort from a pain that they have been through, but the world had different plans.
When you don't know what love is, you don't know the true meaning of it or if you have never felt it physically or emotionally. Love becomes then a stranger in your life that you haven't met. Lily yearned to know what love was, but she didn't know she was looking for love in all the wrong places. She became involved with the wrong people and made the wrong choices. She soon fell into drugs and alcohol.
Lily has never had a father figure in her life, so she would always fall into the words of the modern tale cliché of a Prince Charming, but in reality it's a masked monster preying on innocent weak girls with exactly the right words. When the Prince Charming is done filling his cup with satisfaction, he leaves like a thief in the night not knowing how empty he left her. She pushes herself from everyone and goes into a deep depression.
I remember coming home and opening the bathroom door to find my sister lying across the bathroom floor, rushing to her and trying to keep her conscious by, asking her questions and finding out she had overdosed. When I think about it, I remember not once did I cry. When I opened the bathroom door, it literally felt like the world falling around me. I knew I had to be the one in control and the person with the right mind in that crucial situation. I knew she needed me and I was going to be her strength. Those five minutes were all a blur to me, I just stood next to her praying that God doesn't take her away from me. I was telling Him that she is so much more than what this world sees, that I know she will overcome this, and make something out, of herself, and if that If I have to be the only person in this world that has faith in her, then I will.
As Lily woke up, I stood right beside her and examined her eyes looking past that and I read what her heart was trying to say. She began to quiver the words "I'm sorry" but I told her it's ok no need to say it. I stood knowing I was beginning to cry and I walked to the other end of the room, pushing my tears and grabbed the mirror that was hung in the room. My sister said in a confused voice "what are you doing?" and I said in a slicing voice "no? what are you doing ?" I quickly realized that I shouldn't have said that .I went to her side and said "Lily, I want you to look in the mirror and tell me what do you see?" she examined her reflection and realized the shape she was in and starting crying. She wiped her tears and said "I see a stranger"," Gabby I need help, and this is not me ". Understandingly I said, "I know it's not, but soon you will be able to look in the mirror and know who you are, I promise". I held her until she fell asleep and thanked God for giving her another chance to make things right. As she stepped outside of the hospital she breathed in the air and let the sun hug her face, she smiled and said "thank you God". She decided to get help and go into rehab and for six months I didn't see her .I knew she wanted a new chapter and a new beginning.
She referred herself as a girl that she didn't know when she would see her own reflection. Through her journey I could tell that it was very frustrating to her and very hard to change and climb the grave she had dug for herself. Devotion and freedom are two words that not only take a lot of faith, but a lot of discipline to accomplish. When you know that you have been so low in your life so far into the ground that you need to be free ,it's up to you to make that choice and be committed to want to get that help not only from others but yourself. She wanted to be free from her worries, from the chains of the tempting world to not fall back again.
Lily, has experienced the taste of the luring world that puts on a mask to make you believe that you can run away from every problem, every set of judging eyes, every mistake done wrong with trying something that makes you forget about a girl that's hidden inside herself that has so much potential. She could only go so low until she realized that she was running a hundred miles an hour in the wrong direction. Lily realized that she doesn't want to be the possession of the world but to someone much greater, God that can give her peace. Lily wants to be the beautiful person she sees in her dreams at night but when she wakes up, she has the mark of what the cruel world gave her.
She marked in her heart the two meanings of her name, devotion and freedom not only in her heart but in her soul. She knows that the bruises from her pass will fade, but she knew she had to channel the hurt, and make it into something that she can learn from.
I remember one night she her saying something that immediately struck me to the core. "Gabby can I tell you a secret?" I looked at her as she held her composure "I feel so ashamed of myself". Then she looked at me and she said "but you know what Gabby, I know I am beautiful even if I was emotionally abused, powerless and disenfranchised because of you, I feel and am beautiful". To hear her say" I am beautiful" but it comes from a dark place I realize how deep she really is, because here is a girl that's not perfect at all and has been through growing up in a place of chaos, sadness, and feeling all of those things at a young age, and to know she knows she's so much more than that.
Through all her journey to be free she survived ,she proved not only to the lying world but to the girl in the mirror that made her insecure that she can do anything that she can break those shackles from her feet and walk not only with strength but with faith. Lily shed her skin and started a new beginning. She wants to go to college to become a child psychologist and I know she will be a great one. Soon she will be married and she will be a new woman now, while saying goodbye to the past shadows of her life.
It means the world to me that lily has someone in her corner to see the good in her and bring it to life for her and I know she knows that she's so blessed and how amazing things are going to be for her. I learned to always be a fighter and to never fall into the world, believe it or not she's the positive influence in my life.
I credit her in letting me learn from her mistakes and how to overcome any trials in my life. Just like I pulled her out of one the darkest times of her life, I know I can help someone out there too.
It might be hard to think that you can admire and be thankful to someone for them making the wrong decisions. Even though it's not the actions that are worth of admiration but the process of rising after going through the consequences of making misguided decisions. Lily, my sister did just that she became devoted to overcoming the trials and tribulations of her hardship life; not only saving herself but through her journey she didn't know she saved another, me.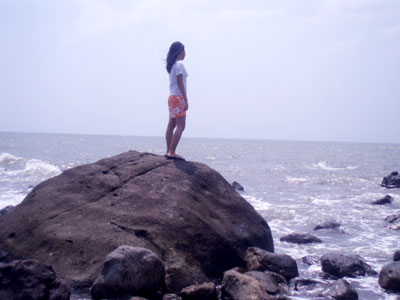 © Grace L., Bacolod City, Philippines