Puppy Memories
January 11, 2012
As my sister revealed the contents of the box she was unwrapping for her eighteenth birthday, I could hardly believe my eyes. I was nine years old at the time, and I had seen two purple nylon items and a book, gasping in disbelief; I moved closer to get a better look. Chocolate Labs. "We are getting a dog?" I shouted. Saturday we piled into the car to make the journey to a farm in hopes of securing our new puppy.

As we were anxiously waiting in the back, my sister and I were looking out the window hoping our dad would turn into the farm, we were getting annoyed at how long this two hour trip was taking. When we finally arrived at the farm, the mother dog had come out to greet us, and Zeus, our new puppy, not far behind. We had noticed his father was in a cage because he would have tried to attack us when we were taking Zeus. My sister had looked at Zeus to make sure he was healthy and a strong puppy and he was, so she picked him up and said, "He's perfect!" My dad then paid 200 dollars for him and he was all ours!

When we had first brought him home, we let him out of the car, shut our gate, and let him run around to get used to the new area. I had run inside to find a toy for him. I had found a tennis ball for him to play with and he seemed to love it, even though he could barley fit it in his mouth. When he was born, he lived on a farm, and switching to the town life and living inside of a fence was going to be totally different.

As he was growing up, my family and I could hardly believe how quickly he was developing. In the beginning of his life with us, he was very afraid of swimming in our pool at our house. We wanted him to swim so that in the summer when he would play outside, he would have somewhere to cool off and relax. In essence, like us humans do with pools. After a few years of him being so afraid of swimming, he finally started swimming in our pool. Now we cannot keep him out of water and out of the pool!

Six years later, my once rolley polley puppy has turned in to a one hundred and four pound giant who still thinks he is a lap dog. He has become another part of the family and always will be. No matter how big he is or how old he is, we will always love him and that is something that will never change.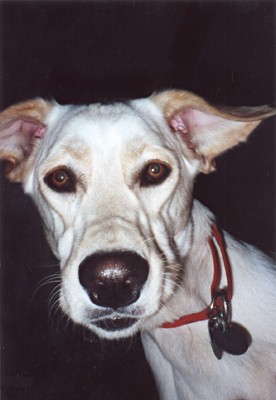 © Violet B., Phoenix, AZ