Is it a music radio station?
January 13, 2012
To be honest, sometimes I cannot distinguish the types of a radio station according to its contents.

I often listen to the local music station while on the car. On the way home and way to school, I like enjoying music: All kinds of music! From 1920s in Shanghai to Billboard of 2011, as long as there is music playing in the car, I won't be down. But if the smooth melody is interrupted by the talking of moderator…4 minutes' music and 10 minutes' talking, this is a splendid feature of our local music radio station! If a song is going to be played, the moderator are bound to talk more than 10 minutes, which is about the experience of the singer or the composer. However, this experience has little relation to the song itself! What's worse, sometimes the moderator are fond of giving a long talk of life and philosophy, which is called "Chicken soup for the soul"–That's it! Chicken soup for the soul, the best phrase to describe the boring talks in music station!

Last night, I came back from IKEA. Like many Beijingers, I met with traffic jam on the way home. To kill the time, I turn up the radio and listen to the radio station. "Welcome to Night Talking!" The moderator declared proudly–Listen! A music station should have a program aiming at talking about life and philosophy!

This issue was about schooling and examinations. A mid-aged woman talked about it with many other listeners via micro blog. All of them are recalling or talking about their school life. The moderator was like a teacher, exactly, a professor from the phisolophy department of Harvard University! And immediately after the chatting, the moderator began an endless monologue, "You may be tired of my nag, however, I still have to tell you that in your last year of high school, as a Chinese student, you need to fight a way to college." It sounded reasonable: I am just in the last year of high school. But only seconds later, the reasons of saying that could be so absurd, "Support that your girl friend was admitted into Tsinghua University (The best university in China mainland) while you were admitted into a third-class college, how could you continue your love with her?" My god!

Beijingers often ridicule say, "Beijing's traffic jam is endless!" Nevertheless, the traffic jam should be over before the talking of the station's moderator! After that, the moderator said, "Next, please enjoy a classic song 'XXX'. The singer is very famous, he even…" The result was I could not bear the noisy tune! I took out my iPhone and search the singer. From Baidu in China to Google in USA, there were hardly results of him! I wondered whether the editor of the station was responsible.

Today, in the morning, I listened to the station again–I felt so sorry that this station is the only music station we can listened to–another moderator, who was a bit younger than the one of last night, began her work of a day. "Welcome to local music station! And now I would like to recommand a book for you. This book is named 'How can Chinese government deal with the financial crisis'. The book is written by a famous economist from Peking University, his theory is though highly by another great man from UK, and…" I stopped to do my homework. An hour later, I turned the rado on again, and the moderator's tone suggested that she was really delighted today, "Welcome to be back from the advertisements just now! And next, we will enjoy the most interesting one. Please listen to a famous Chinese talk show…"

Because of this music station which is lack of music, I took out my iPhone again. This time, I decided to listen to my own music stored in the phone.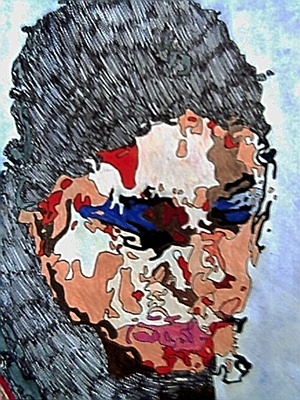 © Sarah A., Morristown, TN