You Smile
January 10, 2012
He looked genuinely happy standing there with the flashing lights catching his dark brown eyes and making his smile shine bright. I smiled back at him filled with joy as we waited for what was to come next.

"Okay guys, this is our last slow dance of the night so make it good." The enthusiastic DJ informed the crowd of Park City High School students.

Kyle and I exchanged a disappointed look followed by laughter and rolling our eyes when "U Smile" by Justin Bieber came blasting through the speakers.

Without wasting time, Kyle put his hands around my waist and pulled me in close to him. I have to admit that my heart started pounding at this moment and I couldn't help but smile at the situation. I put my arms around his shoulders and hugged him tight, resting my cheek on his shoulder. We shifted our weight onto each foot, back and forth, and the heat from his body wrapped around me like an electric blanket. It was what it was, and it was straight up romance. It felt better than I could have ever imagined.

Now to understand this situation, you have to understand something about Kyle, but before you do that, you have to understand something about me. I am the type of person who has to trust someone to the fullest before I can be myself around them. Speaking has never been my strong suit. Communication just comes more naturally to me through movement, and I suppose that's why I love sports so much. I have had more than my fair share of awkward moments and feeling like I am invisible in my 15 years of life and even as a Sophomore in High School my communication barrier still gets in the way sometimes. The thing is, is that Kyle and I are actually very similar, and not just because we both excel athletically. We are both quiet on the outside, but once you get to know who we really are, you will find that we are both complete dorks. Because Kyle and I are on the same cross-country running and ski team, I have gotten to know him very well over the past year and have come to find him as a high pitched singing, scooter- riding, random fact giving, air guitar playing, sweet most of the time, and might I add extremely skinny and handsome boy, who can make an entire room of people burst out laughing by saying only three words; "Hi, I'm Kyle!"

When Kyle asked me to Homecoming, I was definitely excited, but more just for the fact that he had asked me. I knew that we were good friends, and possibly something more. But, until that moment, I had no idea what Kyle thought of me. You see, Kyle has seen me at my best and inevitably also at my worst. He had seen me laugh until my stomach burns, chase him wearing a rubber lizard mask and XXLarge robe, collapse at the finish line after a ski race with drool slung across my face and the complete feeling of pride pulsing from my body, and dance around a room literally not caring who's watching. But he's also seen me pout silently for completely stupid reasons, cry into my mom's shoulder after a bad race, ignore him when he's trying to talk to me, and be completely devastated for something that I later found out wasn't even real. We knew each other pretty darn well, and despite that, I still had no idea what to expect for Homecoming.

A week before Homecoming my mom had found me in my room with red rings around my eyes and a sad look on my face.

"I just don't think I'm cut out for this," I admitted to her. "He should have asked someone else."

I only thought this because some moments with Kyle were, I'm not gonna lie, super awkward. My fairytale vision of perfect communication wasn't playing out, and I automatically blamed it on myself.

One week later as Kyle and I danced close enough to hear each other's heart beat, I realized that all those things from the past didn't matter. That Kyle and I are two unique people who were united by the sports that we love. I realized that you don't have to say something to get your point across, and that silence isn't a bad thing.

As Justin Bieber belted out the line, "When you smile, I smile." I could not resist the moment and smiled away, feeling like the luckiest girl in the world. When Kyle later told me that that lyric sounds like "When you smell, I smell." I couldn't look back on the moment quite so joyously, but still it's obviously a moment that means a lot.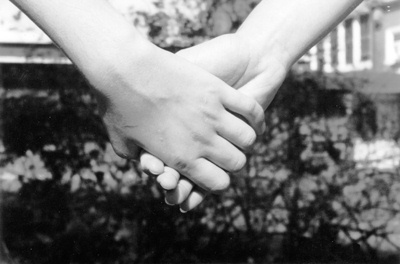 © Lauren G. Pompton Plains, NJ