Lifeless
January 10, 2012
I laid there lifeless on the cold table. Tears could no longer express my pain, no amount of screaming could convey my message, and no amount of pleading would make him stop. He numbed me from the waist down, but I still imagined the pain that he was putting me and my baby through. I looked around the hospital room and wished that someone would come in and ask me, "are you sure this is what you want?" I would tell them no; I would look into their eyes and somehow they would know the truth. As if he knew what I was thinking, Brian said to me, "no one is coming to your rescue." Then he went on with the procedure. . . He didn't even bother to hide what he was doing to me, he just cut away. I can still hear the sound of him vacuuming out my insides...

I am not sure if I really passed out, or if my subconscious is just blocking out the memory, but I can only remember bits and pieces. The next thing I remember is him giving me a jar and showing me what could have been my baby. He said, "I think it was a girl, but I can't be sure." It had to be some kind of sick joke because the jar contained this red mush and I thought I could make out what looked like fingers and toes... As I looked at the jar I pictured a voice saying, "Mommy, why didn't you want me?" Then I threw up all over the floor.

Two hours later he dropped me off at home and said to me, "I want you to remember, this was your fault." With those words, I went to my room, curled up into a ball and cried. I cried because of the physical pain I was feeling, I cried because I had just lost my baby, but I mainly cried because I knew that this would never stop.

He raped me two and half months before that terrible day... It was awful, painful, embarrassing and devastating. I had just turned thirteen and it occurred on one of our "Sunday Outings." I used to think he was pretty cool because he was a doctor. He gave my mom a brand new black convertible mustang, a laptop, two I-Pods, money, and his love. Even though he was fifteen years older than her, she kept him for his money. In the past, I had hated Sundays because my mom had to work, so my sister's dad would come over and watch us. He was mean and abusive. Once Brian came around, though, things got better because I no longer had to endure the beatings. Brian would take me places, buy me things, and let me have fun. It didn't start getting weird until a few months later when he realized my mother wouldn't give him sex.
The first time it happened he took me to an abandoned cave in Kentucky. We were driving through the woods and as I was singing to High School Musical he started staring at me. He then put his hand on my leg and told me how beautiful I was and how much I looked like my mom. He pulled off the road and began driving on a dirt path. Then he stopped in the middle of nowhere, lifted up my arm rest and started putting his hand up my shirt. I was so confused with what was going on and immediately yelled at him to stop. He did, but then got out of the car, opened up my door and told me to be a good girl. As I tried to get out he laid my seat all the way back and pushed the seat as far as it would go. Then he got on top of me, unzipped my jacket, and pulled off my shirt. He started licking my body and told me to take off my pants so he could play doctor with me and check me out down there. I didn't obey so he forced them off of me and forced 'it' inside me. It hurt so much.
He did this every time he took me out on a Sunday and we went on our outings. I was too scared to tell anyone, because I thought it was my fault. Where would I begin? Who would believe me? I didn't know whether to stay home and endure the physical abuse from my sister's father, or to go out with Brian, pray he wouldn't try anything, and hope we would do something fun.

I didn't think the situation could get any worse. The day after our trip to Canada, he gave me the morning after pill, but at the time I didn't know what it was and he didn't tell me what it was for. All he said was that it would help make me a woman. I thought it was a drug and was too afraid to take it, so I spit it out when he wasn't looking.
Two and a half months later I had missed two periods, was experiencing morning sickness, and he could tell something was up. He tried to touch my body and as I squirmed, he saw that I had what looked like a little baby bump. He started screaming at me, saying, "WTF! Didn't you take the medicine I gave you?!?" I started crying and looked out the window. He began hitting my face, calling me a slut.
"ARE YOU READY TO BE A MOTHER!? DO YOU KNOW HOW SCREWED UP THIS KID WILL BE?" He got me a pregnancy test and it turned out positive. Then he took me to his office and gave me an ultrasound... I saw my little baby on the screen. She wasn't just a little blob, she really looked like a baby! Even if I was only thirteen, I still loved my baby. As tears began forming he turned up the volume and I heard her heartbeat. It was so fast, but so real. Everything was incredibly real. I asked him, "What now?"
"Now we get rid of it before it's too late"

To this day, I still can't sleep at night. I wonder if it was the right thing for her to be aborted. Would I really want her to be brought up in this life? What would my life me like with her in it? Would she really benefit from having a teenage mother until she was seven? I know if she would have been born, Brian would be in jail for a very long time.

Although I no longer see him, I still think about what he did to me every, day. All I can think now is that my little baby would be three years old. . .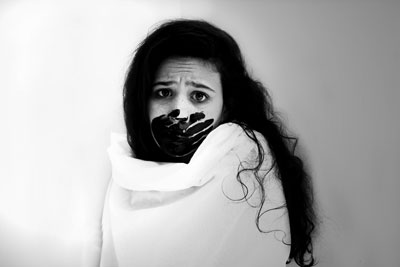 © Sandy H., Woodbridge, CT