What I Fear Most
January 6, 2012
My Grandpa Rudy is one of my relatives that I am very close with. My grandpa and I we do everything together, watch sports, and work on wood projects. I spend most of my free time with him. We call each other every day to talk and I always ask him how he is feeling, making sure he is ok. He is like an older big brother to me. I remember one time when my grandpa was hospitalized for his cancer. He being hospitalized was the worst surprise that I've ever gotten and having that happen again is something that I don't want to re-live.
Just thinking about the story makes me upset. I was at my mom's house in my room when my grandma called from the hospital. We didn't know what was going on or if he was okay. When we got to the hospital we had to go to the post-surgery floor. I was Riding up the elevator to the floor he was on was the most unsettled I've ever been. Half of me wanted to hurry to the room to know what happened and the other half wanted that elevator to stop and I wouldn't have to know the situation of my grandpa. All you could think about was how "sick" he was. As I slowly stepped off the elevator I had to fight the urge to hop back on and leave the hospital, but I just had to know if he was ok. I can remember that feeling when I walking down the hallway to his room to see my grandpa. The dark, empty, and quiet hallway made the situation seem a lot worse than it actually came out to be.
No one in my family who I was walking with said a word the whole time, which just made me more nervous. Even though the doctors said he was doing fine, I was still very nervous. As I approached his hospital room door my legs went numb. I stood outside his door as if my feet were cemented to the floor. That presence of being there for my sick grandpa was terrible. It took everything I had in me to not breakdown right there.
When I walked into his room all I saw was the curtain. It made me scared to think of what I was going to see on the other side. There was a faint sound of a sports broadcast coming from the TV. When I went around the curtain, there he was, lying on his bed. I was so confused at what I had seen. My grandpa was fine and he was just watching a football game. After all the bad stuff that the doctors had to do, he was fine and resting. You might think I got over worried but I guess that's what happens when you really care about someone. I fear that my grandpa is going to get sick and have to go to the hospital again.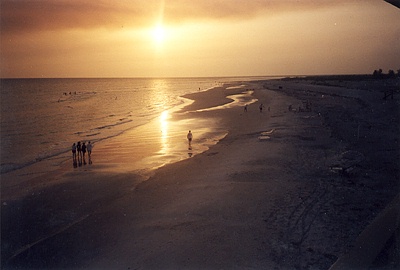 © Sara C., New Port Richey, FL