The unthinkable happend
January 6, 2012
December 14 and the unthinkable happened. It was Wednesday after school I received a text message from my older cousin Jasmine. The message said that my older cousin Lavell had shot himself. I looked over the message to make sure I was reading it correctly. I texted her back and asked, "Did he die?" The message said, yes. Thinking in my mind this did not just happen, closing my eyes because I could feel my tears coming, in my mind I'm asking myself why he would do such a thing, why would he take his life. After I got off of the school bus, I walked over to her house.
When I walked in the door, I could see her face. It looked like she had been crying for a while. Trying to talk to her, my phone vibrates in my pocket. It was my dad calling; he was on his way to get my little sister and me. We then went to my Aunt Margret's house, Lavells grandma; I could not believe what I was seeing.
People crying and not being able to control there emotions. I wanted to cry but I was trying to stay strong for the family. After a while of holding all my emotions I finally broke down. Three million things rushing through my mind, still trying to figure out why he did it. Days past with the family.
Some days were good some days were bad. All everyone could possibly think about was that things were going to get worse. Like always everyone was right. Adults arguing, fighting, crying and just completely out of control. Walking off to get some air and get away from people I thought to myself why is my life so horrible why does the bad things always happen to our family.
I went home because I could not take all the pain I was seeing in there eyes. When I got home I walked to my bedroom slowly. Barely being able to stand up I feel onto my bed. Curling up into a ball I pushed my face into a pillow and cried myself to sleep.
A couple of days past and finally came his funeral. Arriving at the church I could see all my family. My cousin Shawn passing out blue ribbons to the family. The blue ribbons are for my cousin lavell because that was his favorite color. My uncle vell the father of lavell was standing in the crowd trying to hold it all together.
As soon as they started letting everyone into the church I could feel my tears coming out. We all sat done in rows. I'm sitting next to my little cousin luvshawna who notices that her big brother is crying. Which made her cry, me trying to comfort her I gave her a hug and rubbed her back to left her know that I felt her pain. After the funeral I thought I hope and pray that everything is ok.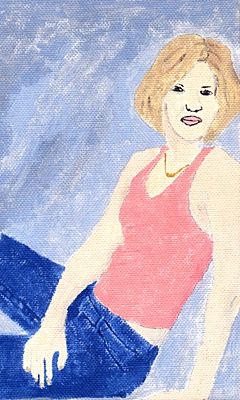 © Damon L., Purdin, MO