the day i found a guitar
December 1, 2011
Boom, crash, clang! I crash into a mail box! My friend who was right behind me crashed into me and he is enormous. It was a nice day early in the morning in the spring time. My friend comes over and wants to go for a bike ride so I ask my dad he was outside.
He said "sure go ahead but be back before dinner or when I call you".
I go to get my bike, I walk out front

The next thing I know my eyes freeze.
I saw a.
Brand new acoustic guitar in my neighbor's trash. I ride over to the trash. I pick it up. And I see this huge crack in the bottom of the guitar!
I said "that sucks". So then I bring it back over and
My dad says, "Crap". I said "Does it still work?" He said "yea it does" and I said "cool". So then I go for my bike ride and we go into this circle. I see a dark green mint condition Grand Torino in some guy's drive way. It was amazing. After me and my friend stop starring at the beautiful car. We meet up with another one of our friends. That was the day I found a brand new guitar.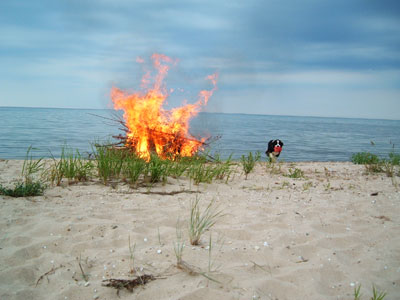 © Hilary L., Rogers City, MI