A Nightmare Come To Life
December 27, 2011
July 25, 2011 My nightmare came to life. I lost not only my Father I lost my Best friend and I lost my Hero.
I wanted to go with My dad to his Doctor appointment so i had called him all day he never answered his phone. So I called my friends dad and had him go check in on my dad, about a Hour later my family got the call that would soon change our life's forever. My aunt told everyone to get dressed and to get in the car, so I got dressed and walked out the door, the door then shut and locked, my aunt came out crying, My grandmother then told me to come in the house so I did, as I walking in the house I knew something wasn't right. She looked at me with her eyes filled with tears she had told me my dad was dead. I fell to the floor, it was like I was lifeless. i got up off the floor and walked out the door. Some say I was screaming but I didn't hear a thing. The drive from My aunts house to My house was the longest time of my life. As we pulled up to my house, I lost all feeling, i stepped out of the vehicle everyone looked at me and started to cry.
As I walked up to my old house I could feel all the Memories come flooding back, It felt cold, I then knew that my life had changed. I walked in i looked at what use to be my father, But he was cold he was hard as a rock. I remember looking up and everyone was crying, I didn't understand why.
Now almost seven Months later, I'm sitting in a Foster home in Wyoming, On Probation. My grandma and Aunt don't want me anymore. My life changed a lot. For me it isn't over, the pain of losing my father has hurt me a lot, He was the old person I had left. I can remember everything about the last day I seen my Father alive, this whole thing will forever hunt me.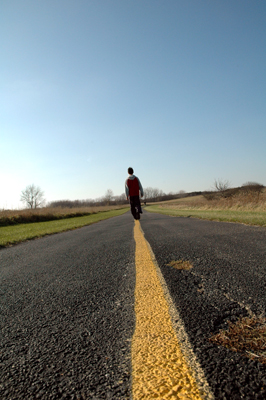 © Seita O., Palatine, IL