Lake Amistad
December 11, 2011
Sometimes it's hard to notice how lucky you are to have something until it's almost out of your reach, in this case sunk. Sometimes it may be the little things you don't notice half of the time, or things that you use regularly but overlook how important they are in your life. And if you're asking this is not some story about how I almost lost a necessity just something that I love to do and do regularly.

"Jim I think the boat is slipping!!" My Dad shouted from the crystal clear water of Lake Amistad. Almost instantly I watched my Dad's good friend Jim swim over to the side of our 75 foot house and look at our position compared to the shore. As I saw his facial expression drop I knew something was wrong. Earlier it had been sunny and our boat was securely tied to the rocky geography of Lake Amistad. Now the sky was gray, fierce winds were blowing, and our house boat was slowly slipping from the shore. I had no clue what to do. By instinct I got out of the water and got inside the boat. When everyone was inside the boat I saw my mom and my dad put on jeans and bad shoes so I just followed. If you've ever been in this kind of situation before you just start to follow what everyone else is doing. My dad yelled out over the wind "Craig come help me get our boat off of the side!" I owned a 2008 yellow super air nautique. We went out on that thing every weekend for hours on end. It was one of my favorite things that my family owned, so when I heard my dad tell me to come save it I didn't resist. Luckily it was only on the side that was getting blown into the rocks. Wait that actually is a bad thing. In this case the worst possible thing that could be happening because our boat was so far pinned up on the rocks that we weren't able to untie it from our kite sorry I mean boat. I just stood there watching my favorite thing ever get scratched by tree branches, get scraped by rocks, and be that much close to sinking. Then out of my relief our boat started to draw away from the rocks. I thought that god had given us a gift, and he did and his name was Jim Smith. He had got the boat turned on and moved it back on shore quick enough to save our boat. I had never felt so grateful for another person like this before. Without him I would not still have my yellow super air nautique. The rest of the night went on like old regular lake stuff like 60 mph winds, losing many floats to the wind, and a firework show put on by my dad to end it all.

This moment showed me to be more grateful of the things I have. Because maybe one day I'll be riding my bike and a 60 mph wind storm will blow in and my bike will blow away, so 'I have to be more grateful about all of my stuff.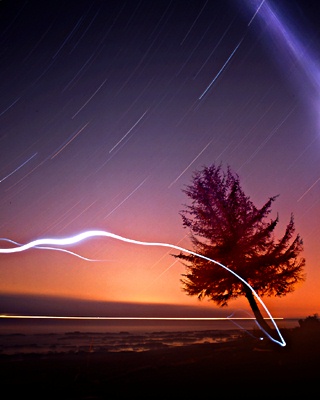 © Joey M., Spokane, WA