Cascade of Courage
December 7, 2011
It was a hot, sticky day in Wuhan, China. Everyone was grouchy and wanted to stay inside to avoid the heat. I was in a remote town in the middle of nowhere.
My two aunts, uncle, cousin, parents, sister, and I were on an excursion to climb the high, green, mountains two-hundred miles away from my aunt's house. On the way back from our trip, we stopped by a random town to rest. At this town, there was a white-water rafting center.
"You should go!" said my aunt in Chinese, "It will be really fun."
I sighed and contemplated for a while. The cool water would be a great relief and who knew; maybe it'll even be enjoyable. Before making my decision, I walked over to my parents and tuned into their conversation with the woman who ran this thing.
"Is it dangerous?" asked my mom.
"Mmm…yes, but there's medical help nearby, if it's necessary," replied the woman.
Five minutes later, I ended up in my uncle's car with my sister and parents. We drove on a bumpy dirt trail to the top of a small mountain. There were lush, green bamboo forests around us. Perhaps they were there to calm us down? Well, it wasn't working at all. I felt like panicking and screaming. We walked over to the little registration booth and waited on line to buy tickets.
Finally, we got our tickets and entered the area where the boats were piled up and people were starting to go down. We stood on one flat slab of rock. One look at the stream and I felt completely horrified. Huge waves of white foam crashed along the rocks. The first pair of people that went down screamed as they got doused by icy cold water. I raised my eyebrows and grimaced as they were thrown from side to side by the strong current.
"Here, put on your lifejackets," said my dad as he handed two bright, neon orange life vests to me and my sister.
My life depends on this jacket, I thought as I put the jacket on and clipped the buckle. I looked at my sister, Rachel, who was hopping from rock to rock, chasing after a dragonfly. I rolled my eyes and sat down on a rock, waiting for my parents to finish giving their valuables to my uncle for safekeeping.
"Alright, let's go!" shouted my dad to us. I could tell he was excited by the way he scurried over to the edge of the water.
My sister and I decided to share a boat, and my parents would share one. I was slightly worried about this arrangement, but that's the way it had to be. If the boats weren't balanced, then potentially, someone could fall out.
"You guys go first and we will be right behind you," said my mom to us.
We climbed into a sizable boat made out of inflated rubber. It was orange, light blue and green and had black handles around the edges. I took a seat and gripped onto the handles. A man pushed us down the river and we were immediately greeted with a splash of water that got us completed soaked. We continued to sail down the formidable terrain. Suddenly we lurched toward the huge stone wall. The current unhelpfully propelled us to and from the rock wall. Meanwhile, my sister and I were quickly going into a state of anxiety.
"Help!" we screamed in between constant splashes in the face. My parents glided by us smoothly, awestruck. So much for being right behind us, I thought, as they were pushed farther and farther way. Rachel began choking on the water. I looked up and saw my uncle standing on the rock slab above us. He was waving, as if to ask, what are you doing? Well, what does it look like we're doing? I thought desperately.
Finally, someone who had authority had noticed us and got the man to push us out of this infinitely looping prison. He stepped into the water and gave our boat a huge shove. We managed to get out of the waves' reach. I couldn't have felt more relieved.
"That was so scary," said Rachel, as we spun around in circles while flying down the rapids, "I can't believe that was only the beginning."
"I know right!" I replied.
As we sailed down, our velocity increased, and so did the height of the waves hitting us. We moved smoothly, sometimes getting snagged on a rock, but it was pretty calm until we saw a crowd of colored boats congregating before what must have been a dead drop. People were shrieking as they fell over the side. I saw my parents motion for us to catch up to them. The only logical thing to do would be to pull over and call my uncle over to pick us up. My heart started pounding and I was paralyzed.
"Just how are we supposed to go down that ninety degree drop?!" I exclaimed.
The closer we were to it, the deadlier it seemed. I clutched the handles until my hands had deep red marks embedded in them. Right before we went down, I thought about how my clothes had practically dried up from the previous dunking, and now I would have to get submerged in icy water again. But that was the least of my worries.
Rachel went down backwards and was screaming at the top of her lungs. To me, it felt like flying. Flying down a waterfall face first. We landed heavily on the bottom.
"I lost my shoe!" said Rachel.
I saw it floating ten feet behind us. There was a couple near it, but they were too absorbed with making sure they still had all four ligaments attached to notice it.
At this point, I could list one hundred ways how someone could get injured. The rough, jagged edges of the slimy, hard rock loomed around us. The sides of the boat were extremely low, offering minimal protection from the waves or sharp rocks. I was seriously beginning to question our chances of survival.
We arrived at a less turbulent part of the stream and stopped to empty the water in our boat. Our parents were on the side of the river, tipping their boat vertically to pour all the water out.

"Hi, how was it?" said my mom casually.

"Frightening," I shivered.

"Yes, the waves were huge! Try to stay out of the sun," she said, before setting off again.

I scoffed and mentally ridiculed her comment, "stay out of the sun." There were no trees to cover the stream whatsoever and anyone who wore a hat would surely lose it in the current.

The rest of the trail was mostly easy-going, with a few accelerations here and there, but thankfully, no more cliff drops. We arrived at the bottom of the stream and met our family there. I climbed out of our boat unsteadily while my uncle held the boat to the shore.

My cousin ran up to me and pinched my cheeks hard.

"How did it go? I saw you screaming," laughed my cousin lightheartedly.

"I almost died," I exclaimed. Everyone laughed.

My mom showed me some picture that they took of me while we were going down the huge drop. My face was contorted and white foam was swirling around us. It reminded me of a moving water bottle. You had to keep shaking it hard to produce white foam. From this, I gathered that the waves were moving extremely quickly, equivalent to that of the water in a water bottle.

Looking back in retrospective, I find this event one of the most intense near-death experiences in my life. Though this memory was more like a nightmare when I was actually there, it now gives me encouragement to be a more of a risk-taker. I walked away from this event feeling more courageous and dare-devilish.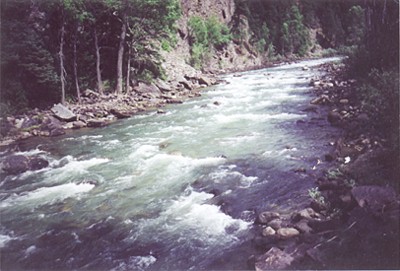 © Reisha R., Bowie, TX