Forbidden Love
December 2, 2011
The boy that meant the world to me is now a faded memory. A memory so deep and strong that began the day we became best friends. We talked nonstop without interruptions. We messed around as if we were little kids. He would always make me laugh. We became to tell each other the most personal things. We would laugh at our most embarrassing moments and get creeped out when we talked about the scariest things. When I was sad, he would find a way to make me smile. His humor was the only cure to my sadness. To me, he cared. I began to realize that I was falling for him like I never imagined myself doing so. I caught myself staring at him when I had just glanced. I found myself missing him whenever he wasn't around. I would blush more often when he would say something sweet. His hugs warmed me and I felt safe in them. He was the one that I looked forward to talking to, him and no one else. I guess he knew the way I felt, but his feelings, if he did have some for me, were unclear. I always felt the urge to tell him how I felt, but I was too scared. Too scared of what he might say or think. I decided to keep quiet.
Soon, after a couple months, he began dating a girl out of school. He would post comments on her wall, telling her that he loved her. Just to see the word "love" shattered me into a billion pieces like a broken mirror. I felt heartbroken for a while and it hurt since it was the first time that I had experienced those feelings. Feelings of anger, guilt, sorrow, sadness and everything you could have ever felt in a lifetime slowly developed inside of me. I was jealous at times and I hated seeing myself hit rock bottom. I was fragile. Weak. Nothing was better than having him by my side. I tried my best to avoid every bit of feelings I had. I didn't want to be the girl that could be broken so easily, so I stitched myself back up and set my feelings straight. I don't need him. I don't. He isn't worth having if he's just tearing you apart. Our conversations grew shorter until there was none at all. When he went through a break up, I found him coming back to me. Everything seemed as though it had never happened. Then lightning struck again. He began to date my friend. Well she wasn't really a friend at all. She knew how I felt about him, yet she had to say "yes." Everything was beginning to spin rapidly in circles as if we were going back in time. Conversations went from long ones to none at all. My heart was rapidly beating and I didn't know how to react. My heart was too fragile to handle the news and it dropped as hard as an anchor drops into the sea.
Arguments fled between us and hurtful words were said. The one that ran through my head for a month was, forget about me. Forget I ever existed. I knew I wasn't going to deal with him. Tears were lost, but I stood my ground because I was not about to fall. The day I crossed paths with him again, was the day of the 8th grade dinner dance. I remember his gleaming eyes filled with apologies, watching my every move. He would stand there as if waiting for a chance to say something. I recall being called around the time I was leaving. I turned around to find him standing. I walked towards him, slowly, scared of what he might say. To my surprise, he just wanted to apologize and say, "I know that we've had our ups and downs, but….you know I'm sorry." He gave me a long hug and walked away, relieved that he had finally had the guts to tell me what he wanted to say.
Months later, I decided to look for him. We talked for a while, but it wasn't the same as before. We began telling each other about our feelings. I confessed to him everything that I was feeling because I just could not keep it in any longer. I talked about the pain that he put me through. Just as I once expected, he too had had some deep feelings for me. He apologized for everything he had caused. Before he logged off, I asked, "Why did you keep it from me? Why do you tell me now?" His only response was, "Because I wanted to hear it from you." I sat there paralyzed, motionless, thinking about everything he had said. That day was the most painful. After that day, I sat there; still paralyzed watching him fade away from my life and watching my feelings disappear in midair. To this day, that love remains forbidden.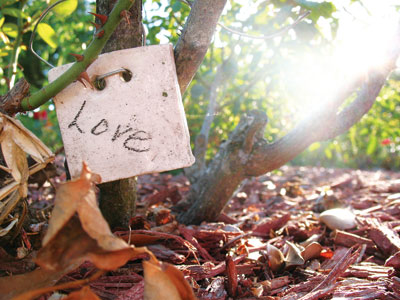 © Danielle L., League City, TX